Review
I am a 68 year old female that always believed in aging gracefully. Over the last few years, I suddenly began to feel that the way my face was aging did not reflect the way I felt as a person. I am active woman with a fairly busy social life, and so it was getting to the point that I did not always feel great about the way I looked. I discussed the possibility of undergoing facial rejuvenation surgery with my family, but they were not too keen on the idea. In any case, I began to research surgeons and I remembered that one of my friends always raved about her surgeon, Andres Bustillo. At some point I developed the courage seek a consultation with Dr. Bustillo.
My consultation with Dr. Bustillo was fantastic. He first explained to me the changes that take place throughout the face and then spent some time examining my eyes and face. He then explained in detail what the surgery could improve as well as the limitations. His approach is conservative and natural and it was certainly what I was looking for. I went home that day and really thought about having the surgery. I discussed it with my family and surprisingly, they were all very supportive. I decided to go through with Dr. Bustillo's recommendation to have a deep plane facelift, upper and lower eyelid surgery and fat transfer.
I received a call from Dr. Bustillo the night before surgery. He has a very calm demeanor and his words were very comforting. He assured me that he would do his best and that he would take care of me as family. The day finally arrived and suddenly I found myself in the office lying down in the pre-operative bed. Dennise, the nurse was extremely nice. She even applied local anesthetic before starting the IV. I met the anesthesiologist who was very nice and reassuring. It certainly helped that he worked at Baptist Hospital, the best one in Miami.
Recovery after surgery was not too bad. I arrived home and was in some discomfort, but no pain. I was seen the next day by Dr. Bustillo who removed the bandage. I will never forget, he gave me a mirror and said "take a look at the neck." While my face was a bit swollen, all I could do was to look at my new neck. I was amazing. The sagging skin and "turkey neck" were gone. The first week went by very slow and as the swelling increased, as expected, I began to feel a bit " blue." I Began to wonder whether I should have done this. I expressed this to Dr. Bustillo on my next visit and he explained that this is common and he reassured me that I would look just like myself after the swelling decreased. He brought in a patient to the room that had underwent the same procedure three weeks ago and she told me to be patient and that she had also looked the way i was looking. I went home feeling much better. By the second week, I could already see the light at the end of the tunnel. I was looking like myself again and albeit a much improved one.
My first outing to a restaurant came at the second week. I was a bit self conscious, but after interacting with several people, I realized it was just in my head. Over the next several weeks, I began to feel much better about how I looked. I began socializing and the most amazing thing was that no one had an idea that I had work done! ! I was constantly told that " I looked great" and that " I looked so rested " but no one picked up on the fact that I had surgery. One day while getting my hair done, my hairdresser ( they notice everything, don't they? ) said to me " I know you had a facelift " and then told me that the incisions were among the best he had seen.
My only regret is not doing this earlier. But I'm very happy to have found Dr. Bustillo.
Procedure: Facelift
Procedure details: 68 year old female underwent a deep plane facelift with fat transfer and upper and lower blepharoplasty.
Before and After Photos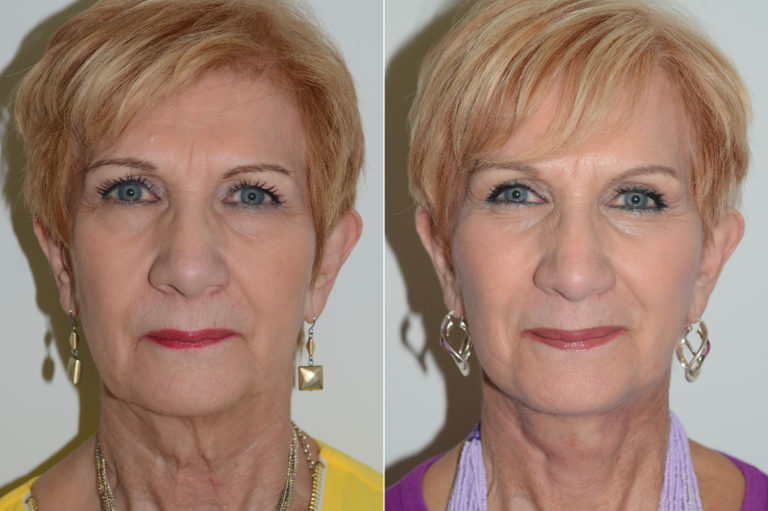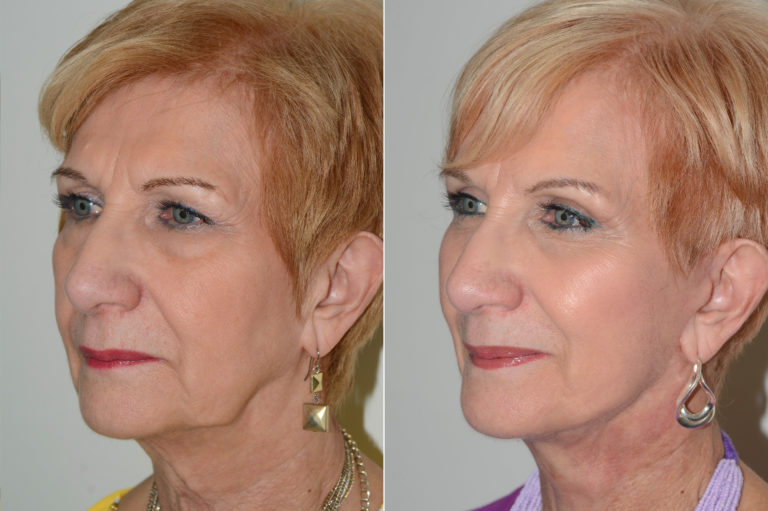 Each patient is unique and individual results may vary.