Review
Since I was in my early teenage years, I always wanted to change the shape of my nose. I never thought my nose was horrible nor was my self-esteem affected, but I always thought that it could be better. I finally had the courage to bring to my family. They were very supportive and mentioned that I could do it when I turned seventeen. About a year ago, I began to do my research to find a surgeon that would do my surgery. I searched and read about different surgeons. Dr. Bustillo's name would always come up when I asked others whom they would recommend for rhinoplasty, so I decided to consult with him.
The consultation with Dr. Bustillo was great. He is very down to earth and has a gentle bedside manner. His approach to the consultation was very different from others. He examined my nose very thoroughly both inside and out. He then explained the things that he thought should be improved. The amazing thing is that everything he mentioned there the exact same things that I was looking to improve, which confirmed we were both on the same page. He also mentioned that there were a couple of things that made the surgery more difficult and made it clear that no result is perfect. He guaranteed that the result would be natural, and with a significant improvement but that at the same time, it would likely have a small flaw here and there. Next, he explained the entire process from the beginning to the end. We reviewed patients before and after pictures of previous rhinoplasties and then went over my pictures and the proposed image.
I arrived that morning of surgery somewhat anxious but excited. The nurse was very sweet and knowing that I was afraid of needles used a cream to numb my arm before placing the IV. I met again with Dr. Bustillo and he reviewed what he was going to do to my nose. A bit later I met the anesthesiologist who was very nice and comforting. Before I knew it I was in the recovery room with cold compresses over my nose. The first night was much easier than what I expected, as I had no pain at all, but it was a bit uncomfortable because I was stuffy and congested. The next day we returned to the office where the girls cleaned my nose and suctioned it, clearing most of the congestion.
We returned to the office on the fifth day after the surgery for the big reveal! The girls removed the cast and Dr. Bustillo came in to see the nose. Everyone, including my family, saw the nose before me and they all kept on saying how nice it looked. After a big gasp, I held the mirror to my face. I could not stop looking at it in every direction and angle. I loved it.
Over the next few weeks the nose swelled, as I was told would happen. Even with the swelling I loved it. It is really after the first few months that the nose begins to take shape. I can honestly say that this was one of the best decisions I have made. I love my new nose and feel that it's perfect for me.
Procedure: Rhinoplasty
Procedure details: 18 y/o female underwent rhinoplasty. The goals were to straighten the nose and the define the nasal tip on the front view and reduce the nasal hump and support the tip on profile. She underwent an open rhinoplasty with: septoplasty, hump reduction, caudal septal extension graft, and dome sutures.
Before and After Photos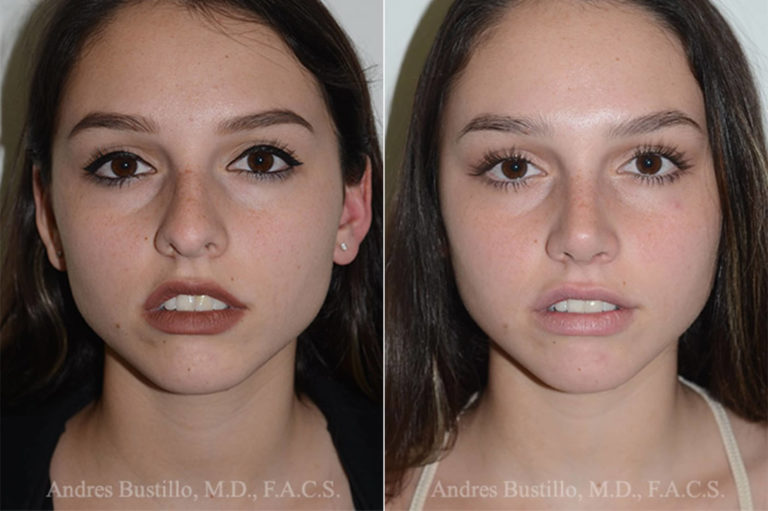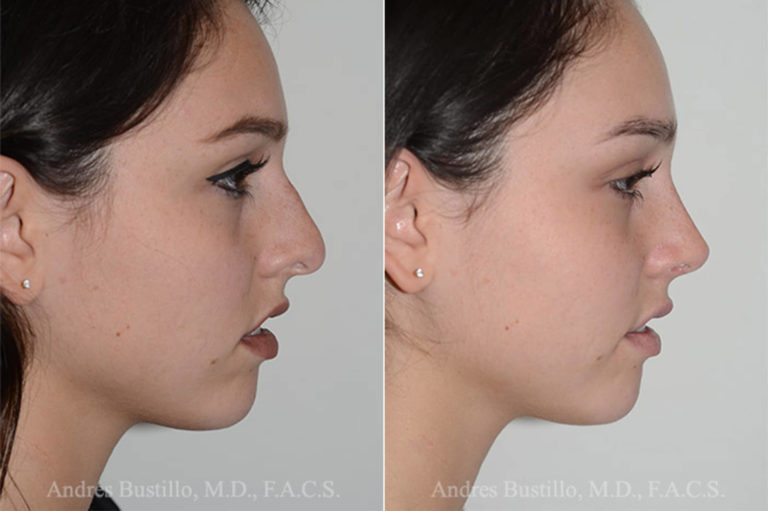 Each patient is unique and individual results may vary.