Aging is natural but can be managed or reversed due to modern medicine. Facelifts, increasingly popular among women over 50, effectively restore youthfulness and combat aging signs.
Advancements in plastic surgery and the acceptance of cosmetic treatments have led more women to enhance their self-esteem and appearance through facelifts.
Facelifts After 50—A New Beginning
The journey towards rejuvenation begins with the understanding that facelifts are no longer a luxury reserved for the rich and famous.
Today, they are increasingly being recognized as valuable for women over 50 to reclaim their youthful appearance and confidence.
With the emergence of advanced surgical techniques, including the deep plane facelift, SMAS facelift, and the mini facelift – the landscape of facial plastic surgeries has been revolutionized.
These procedures, performed by experienced plastic surgeons, offer a new beginning to combat the effects of the natural aging process.
Why Women Over 50 Are Opting for Facelifts
Women over 50 choose facelifts for various reasons. Many aim to boost self-esteem, while others seek to address aesthetic issues like sagging skin or facial definition loss.
Natural aging often results in loose skin, volume loss, and deeper facial folds. However, advancements in surgical techniques address these issues.
Each facelift procedure uniquely addresses aging signs. The growing acceptance and understanding of plastic surgery encourage women over 50 to consider these procedures.
The Science of Aging and Facelifts
Understanding the science of aging and facelifts can help potential patients appreciate the transformative power of this popular procedure.
As we get older, our skin naturally loses volume and elasticity, which causes sagging and wrinkles. This is where facelift surgery comes into play. Facelifts tighten underlying tissues, remove excess skin, and reposition fat for a smoother, firmer, and more youthful look.
Why 50 is the Perfect Age for a Facelift
By the age of 50, many women begin to notice significant changes in their facial appearance due to the natural aging process. This is often the ideal time for a facelift, as the procedure can effectively address these changes and provide dramatic improvements. At this age, the skin still retains some elasticity, which can aid in the healing process and yield better results.
Facelift Options Tailored for the 50+ Woman
There are several types of facelifts available, allowing procedures to be tailored to the specific needs and goals of each patient. Options include the traditional facelift, the mini facelift, and the deep plane facelift, among others. Each type of facelift offers unique benefits and can address different aspects of facial aging.
Customizing Your Facelift: What to Discuss with Your Surgeon
When considering a facelift, discuss your aesthetic goals, concerns, and suitable facelift type with your surgeon. Be ready to share your medical history, including any previous facelift surgeries or rejuvenation treatments.
This information will help your surgeon select the optimal surgical techniques for your facelift procedure. Your surgeon, ideally a board-certified facial plastic surgeon with extensive experience in facial rejuvenation procedures, should guide you through the available facelift options.
Advantages of Undergoing a Facelift for Women Over 50
Facelifts for women over 50 can provide a multitude of benefits, both physical and emotional, that extend beyond the surface.
Surgical techniques tighten loose tissues, eliminate excess skin, and reposition fat for restored facial volume, resulting in a firmer neck, defined jawline, and reduced nasolabial folds and marionette lines.
Facelifts can enhance the balance and proportions of facial features, leading to an overall improvement in facial aesthetics.
Real-life Transformations: Before & After Facelift Photos
One of the best ways to understand the potential benefits of a facelift is to look at real-life transformations. Previous before and after photos of facelift patients can provide a visual representation of what can be achieved through this procedure. These transformations can be truly remarkable, with many patients appearing years younger post-surgery.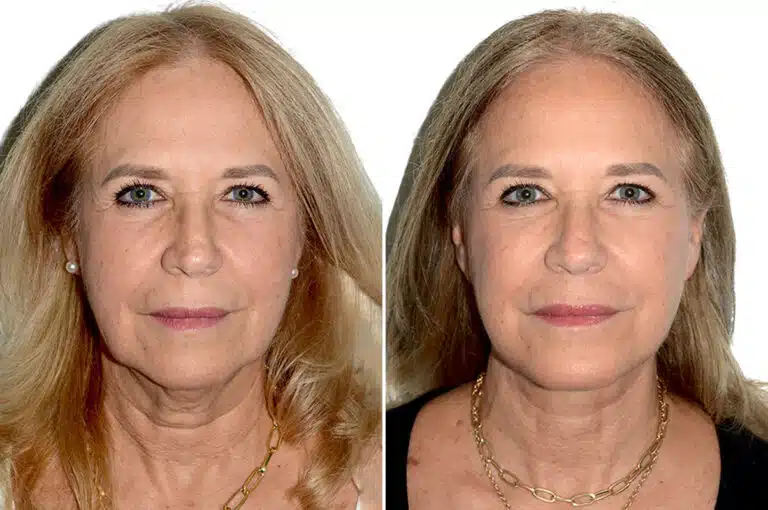 Risks and Considerations for Facelifts After 50
Like any surgical procedure, facelifts carry some risks. These can include bleeding, infection, poor wound healing, and complications related to anesthesia. It's also possible to experience temporary or permanent changes in sensation or asymmetry in the face. It's important to discuss these risks with your surgeon.
Preparing for Your Facelift: What to Expect
Facelift preparation starts with an initial consultation. At this appointment, you discuss your goals, medical history, and current medications with your surgeon. The surgeon will evaluate your skin and facial structure to determine the best facelift approach. You might need to stop certain medications and avoid smoking and alcohol before surgery.
Recovery Tips for a Successful Facelift
For optimal recovery, follow your plastic surgeon's post-facelift recovery guidelines. Recovery time depends on the facelift type and personal healing. Initial swelling and bruising can be reduced by keeping your head elevated, avoiding strenuous activities, and sun exposure. Attend all follow-up appointments for healing monitoring.
Embrace a New You with Facelifts After 50
Choosing to have a facelift after 50 is a personal decision that can significantly improve your appearance and self-confidence. By addressing the visible signs of aging, a facelift can help you look as young and vibrant as you feel. It's a chance to embrace a new you and to enjoy the benefits of this life-changing procedure. To begin your facelift journey, please contact us and schedule a consultation.
FAQs Relevant to Facelifts After 50?
What is the average recovery time for a facelift for women over 50?
Typically, patients resume normal activities two to three weeks post-facelift surgery. Recovery time varies based on the individual and facelift type.
How do facelifts differ for women over 50 compared to younger women?
Women over 50 often exhibit advanced aging signs, necessitating extensive procedures like deep plane facelifts or SMAS facelifts for desired results. Reduced skin elasticity in older women may influence the healing process and surgery outcome.
What are the most common types of facelifts for women over 50?
Common facelifts for women over 50 are the traditional, mini, and deep plane facelifts. The ideal facelift depends on individual goals and facial aging extent.
Are there any age-specific risks for facelifts after 50?
Though all surgical procedures carry risks, facelifts after 50 don't have age-specific risks. However, existing health conditions could impact surgery or recovery, so discussing your medical history with your surgeon is crucial.
How long can I expect the results of my facelift to last?
Facelift results can last for years, but they do not stop aging. Your face will naturally age post-procedure. A healthy lifestyle and skin care can prolong your facelift's effectiveness.