ACTUAL DEEP PLANE FACELIFT PATIENT
Deep Plane Facelift Before and After Photos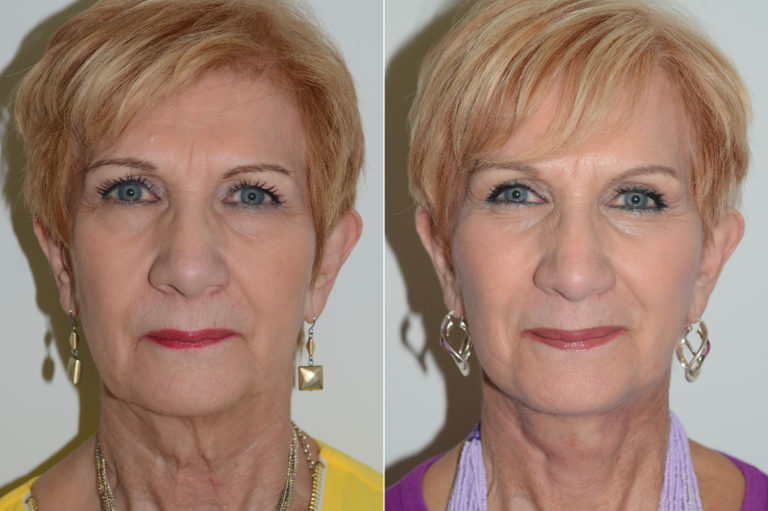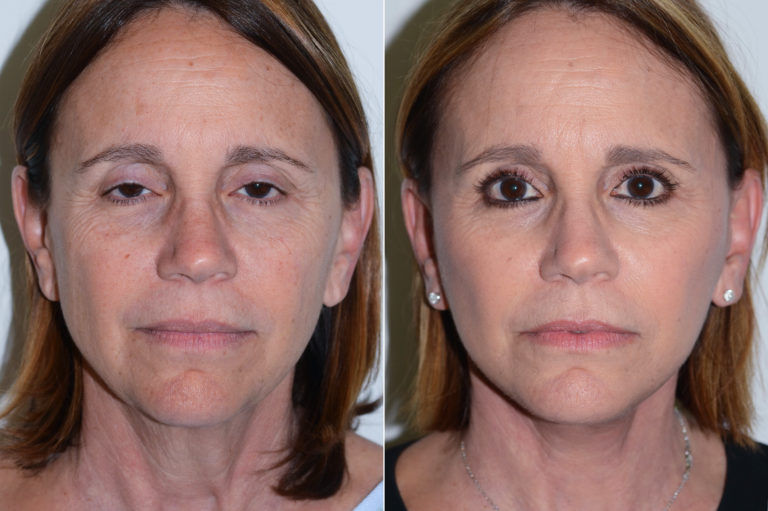 Each patient is unique and individual results may vary*.
The Deep Plane Facelift
Dr. Andres Bustillo has been performing deep plane facelifts for over fifteen years. This technique rejuvenates the entire face, including the midface, nasolabial folds (smile lines), jowls, and neck. It is performed to correct more severe skin laxity and is essential to creating a well-defined neck.
"Deep plane" refers to the technique's focus on the deeper muscles of the face, below the superficial muscle system. In a deep plane facelift, Dr. Bustillo releases all of the facial ligaments to elevate and reposition the face's fatty midface layer and muscle layer. The cheek is lifted back to its natural position, the jowls are elevated and softened, and the neck muscles are tightened.
One of the benefits of deep plane facelifts is that they can be combined with other procedures to address other areas of concern. For example, many people also have a fat transfer procedure to restore lost volume in the face.
Deep Plane Facelift Surgery Benefits
Typically, a deep plane facelift will make patients look ten years younger and the results are long-term, lasting for about ten years. A properly executed full facelift procedure will elevate the cheeks, improve jowls, tighten the skin of the neck, and restore lost volume.
Most patients who choose to have a facelift in their fifties. Sometimes, patients with premature facial aging or that experience significant weight loss will undergo facial plastic surgery at a younger age.
The four visible transformations the face goes through as a result of the aging process are:
Facial soft tissue descent – refers to the position of the deep facial muscles and fatty tissues. These structures shift downward as we age, causing the formation of jowls and deep creases around the mouth.
Facial deflation – a loss of volume in the face that can cause sunken cheeks and a hollow appearance.
Radial expansion – when the skin of the face stretches outwards, causing wrinkles and fine lines.
Loss of skin quality – a decrease in the elasticity and firmness of the skin, which can cause sagging and drooping.
A properly planned and executed facelift should address each of these to fully rejuvenate the face and neck.
The Deep Plane Facelift Procedure
During a deep plane facelift, Dr. Bustillo makes small, curved incisions starting at the temple, extending behind the ear, and ending in the hair behind the ear. He then separates the skin from the SMAS, a thin layer of facial tissue between the skin and the muscles beneath. The deep plane technique results in a midface lift, lower facelift, and neck lift by releasing all of the facial retaining ligaments, elevating and repositioning the fatty midface layer, and tightening the muscle layer of the face.
Depending on the patient, the deep plane facelift procedure can be performed under either general anesthesia or IV sedation anesthesia. All of Dr. Bustillo's surgeries are attended by board-certified anesthesiologists who are part of the Baptist Hospital Anesthesiology Department.
The deep plane facelift technique provides natural-looking results. The procedure gives the surgeon access to the underlying muscle of the problem areas, resulting in alonger-lasting, youthful, and natural appearance. Lifting and repositioning the facial tissues, muscles, and fat also helps to prevent future sagging.
Deep plant facelifts are more invasive than mini facelifts, but they provide patients with more comprehensive and longer-lasting results.
Dr. Bustillo performs deep plane facelift surgery on an outpatient basis in his Miami-based AAAASF-certified surgical facility. Performing the facial surgery takes between three and four hours. Patients are back at home the same day.
Call our office to set up a consultation with our board-certified plastic surgeon, Dr. Andres Bustillo to see if you are a candidate for a deep plane facelift.
Questions about your procedure?
Schedule a consultation with Dr. Andres Bustillo.
Deep Plane Facelift Preparation: The Ideal Timing
Dr. Bustillo requires all patients undergoing a facelift procedure to obtain pre-operative labs and medical clearance from their primary care physician.
Patients should stop taking all aspirin, anti-inflammatory products (including naproxen and ibuprofen), and vitamins ten days before surgery. Dr. Bustillo recommends that patients start high doses of vitamin C (2000mg/day) one week before and continue for two weeks after facial surgery to help heal and reduce bruising. Patients should also abstain from alcohol five days before facelift surgery to mitigate both swelling and bruising.
Following the instructions for both pre-and post-surgery will minimize the risks and potential complications that can come with any surgery.
Who is a Good Candidate for Deep Plane Facelift?
The ideal candidate for a deep plane facelift is someone who is looking to improve the look of more severe prominent facial lines, creases, and folds. Deep plane facelifts make a dramatic improvement in a person's appearance.
The best candidates for this procedure are also healthy, non-smoking men and women with realistic expectations of what the surgery can achieve.
Am I Too Old for a Deep Plane Facelift?
There is no age limit for facelifts, but the ideal candidates are usually between 40 and 60 years old. This is because the skin typically loses some of its elasticity after this age. However, people in their 70s and 80s can also benefit from facelifts if they are in good health and have realistic expectations for surgery results.
It is important to note that a facelift cannot stop the aging process. The natural aging process will eventually affect the results of the surgery. However, a successful facelift can provide results that last for many years, and patients even report satisfaction with their results 10 or more years after surgery.
Contact Us Today
Board-certified plastic surgeon Dr. Andres Bustillo performs the deep plane facelift in Miami, rejuvenating the aging face naturally and conservatively. Our patients' facelift results never look pulled or stretched. Contact us today to schedule a consultation if you're seeking a facelift in Miami.
For more information, please visit https://www.drbustillo.com/.
Deep Plane Facelift FAQs
Does everyone age the same way?
No, facial aging is a complex process that differs from person to person. In some people, the facial skin may become loose and saggy due to a loss of collagen and elastin. This often occurs in people with significant weight loss. Other factors contributing to facial aging include sun damage, smoking, and genetic factors.
It is important to consult with a board-certified plastic surgeon who can assess your specific issues and areas of concern and create a treatment plan that will produce the best results for you. Customized care is necessary to provide the safest and most effective facial rejuvenation.
What is a deep plane facelift?
A deep plane facelift is one of the more comprehensive cosmetic surgical techniques available today. Traditionally, the skin was pulled and/or removed to reduce the appearance of wrinkles. Instead, the deep plane facelift goes beneath the facial muscle layer to elevate the entire face to achieve a more natural, longer-lasting result.
How to reduce swelling after facelift surgery?
70% of the swelling resolves during the facelift recovery time in the first three weeks. The patient should keep their head elevated using two pillows to help reduce swelling of the face and neck. The patient should also place small bags of frozen peas wrapped in a towel on the face every fifteen minutes for the first two days. We recommend eating fresh pineapple after surgery to help reduce swelling.
What are the different facial surgical procedures?
Facial surgical procedures can be performed for both cosmetic and medical reasons. Cosmetic facial surgical procedures encompass a wide range. They include facial reconstruction after injury or trauma, a variety of cosmetic facial rejuvenation techniques, rhinoplasty, blepharoplasty, chin augmentation, and more.
How long does facelift surgery take?
Dr. Bustillo takes about three to four hours to perform the deep plane facelift procedure.
How long do the results of a deep plane facelift last?
You will always have a more youthful appearance after your facelift. On average, the results of a deep plane facelift last about 10 years. However, a facelift won't stop the aging process.
How is a deep plane facelift done?
During a deep plane facelift, Dr. Bustillo manipulates the muscles, fat, and ligaments beneath the SMAS layer of tissue. The procedure lifts the cheek fat back to its natural position, elevates and softens the jowls, and tightens the neck muscles.
The deep plane facelift is the only technique to achieve satisfactory midface or cheek elevation and it is essential to creating a well-defined neck. The result is a comprehensive facial rejuvenation.
What is the difference between a deep plane and a SMAS facelift?
The fundamental difference between the extended deep plane facelift and traditional facelifts is that traditional facelift fails to release all the ligaments of the muscular layer. The deep plane facelift severs the retaining ligaments, allowing for a complete lift.
The deep plane facelift technique also improves the jowls in a way that other SMAS facelifts cannot by severing all of the retaining ligaments that anchor the platysma muscle down.
Why Choose plastic surgeon Dr. Bustillo?