Reconstructive Surgery Before and After Photos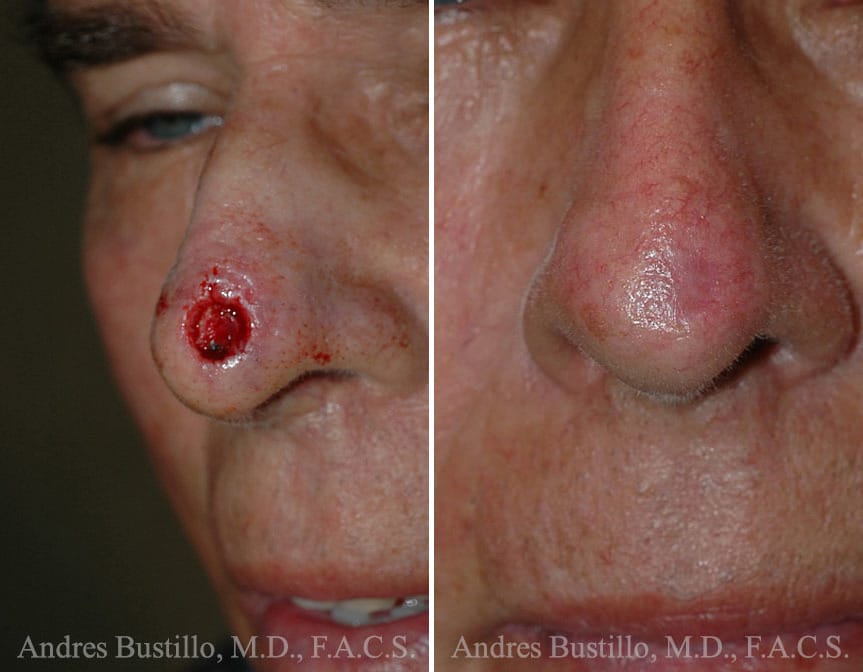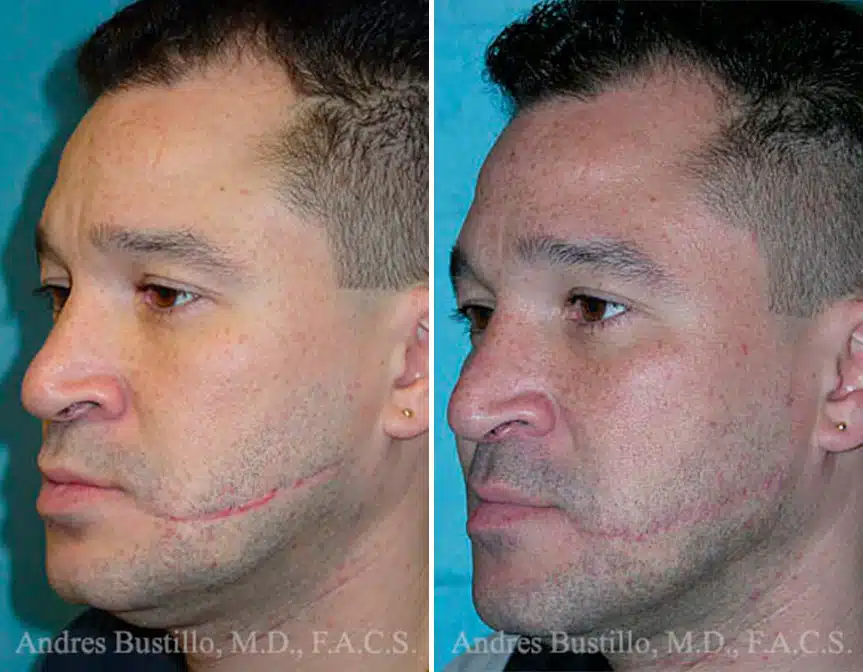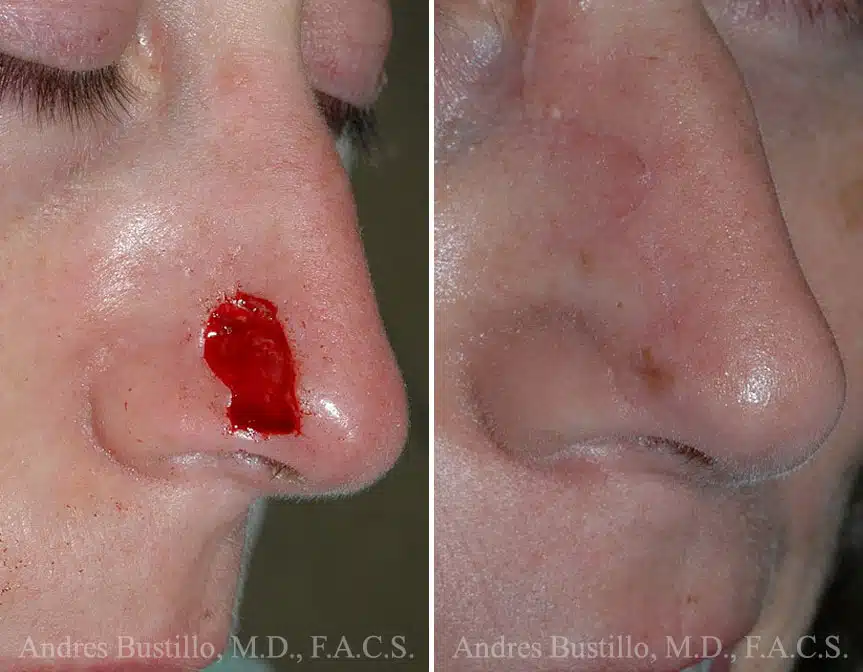 Each patient is unique and individual results may vary*.
Advantages of Facial Reconstructive Surgery
Facial reconstruction surgery offers numerous advantages to patients. Firstly, it can restore a patient's natural appearance that was lost due to trauma, injury, or disease. Secondly, the procedure can help improve self-esteem and confidence by giving the patient a more aesthetically pleasing face. Additionally, facial reconstruction can also improve the function of facial features such as eyes, nose, and mouth, as well as provide better airway access for those with breathing difficulties.
Common Facial Reconstructive Surgeries
Each reconstructive procedure is different, as each patient's situation is unique. However, there are certain types of reconstructive procedures that are the most common. Dr. Bustillo frequently performs the following types of procedures:
Scar Revision
Large scars can be unsightly and uncomfortable. A scar revision can reduce the severity and appearance of scars, boosting the patient's confidence and comfort.
Treatment usually begins with surgical excision of the scar under local anesthesia or mild IV sedation. The area is then closed using specialized techniques, which help to camouflage and or redirect the scar in a direction that is more favorable and less noticeable.
Occasionally, the surgeon applies a resurfacing technique to the area approximately 6 weeks after the procedure to enhance the results. This is carried out in the office under local anesthesia and involves either dermabrasion or a chemical peel.
Skin Cancer Surgery
Dr. Bustillo is an expert in the area of skin cancer treatment. Skin cancer often affects the face due to its constant exposure to the sun.
There are two main types of skin cancer. Non-melanoma skin cancer includes basal cell carcinoma and squamous cell carcinoma. The other main type is melanoma.
Non-melanoma skin cancer (basal or squamous cell carcinoma) is typically removed from the skin using a Mohs surgical technique. This is a specialized form of plastic surgery typically performed by a specially-trained dermatologist. After the Mohs surgery has removed the skin cancer, patients can see Dr. Bustillo for facial reconstruction surgery.
Dr. Bustillo uses different techniques to reconstruct the defect, depending on the size, shape, and location. They range from skin grafts to local skin flaps that may be used to camouflage the defect to help blend it into the surrounding structures.
Melanoma skin cancer is typically handled in a different manner. Because it is a more aggressive cancer, metastasis must be ruled out at the time of diagnosis.
Local metastasis may be assessed by local node mapping using radioisotopes. Distant metastasis is usually assessed using CT scans as well as PET scans. Once this has been done, Dr. Bustillo removes the lesion with margins and then reconstructs the defect using skin grafts or local flaps.
Facial Reconstruction Surgery FAQs
What kind of anesthesia is used in reconstructive surgery?
It depends on the specifics of the procedure. Some facial reconstructive procedures can be performed with local anesthesia alone. Other, more invasive surgical procedures require general anesthesia or sedation. At Dr. Bustillo's office, general anesthesia is only administered by board-certified anesthesiologists.
Am I a candidate for facial reconstruction surgery?
Only an experienced reconstructive plastic surgeon, like Dr. Bustillo, can assess your individual candidacy. Because each procedure is customized, a consultation is the best way to find out if surgery is a good option for you. During your consultation with Dr. Bustillo in Miami, he will discuss your goals with you, perform an exam, ask about your health, and recommend a treatment plan.
What can I expect from the recovery period?
Some reconstructive surgeries are minor, allowing patients to return to normal activities almost immediately. Others will require at least a few days of downtime. Discomfort is usually manageable with over-the-counter and prescribed pain medication. During your consultation, Dr. Bustillo will be able to give you an idea of what to expect during your recovery process.
Does insurance cover facial reconstruction surgery?
Most cosmetic procedures are elective and are not covered under insurance. However, reconstructive procedures can be an exception. It's important to check with your insurance company to find out what is covered and what isn't. Financing is available if your insurance does not provide coverage.
What facial reconstruction surgery office is near me?
If you live near Miami, FL, Dr. Andres Bustillo offers Reconstructive Surgery among its services and is conveniently located at 6705 Red Rd #602, Miami, FL 33143.
Why choose Dr. Bustillo for your facial reconstruction surgery?
Facial reconstruction surgery is extremely challenging and delicate work. Only a facial plastic surgeon with years of experience should take on the task of reconstructing injured or deformed areas of the face to improve quality of life.
With over 17 years of experience, extensive training, and a track record of great results, Dr. Andres Bustillo is a board-certified plastic surgeon known as one of the best facial reconstructive surgeons in Miami. Patients can enjoy peace of mind knowing that Dr. Bustillo is skilled in facial reconstruction surgery and is renowned for his natural-looking results.