Facelift Before and After Photos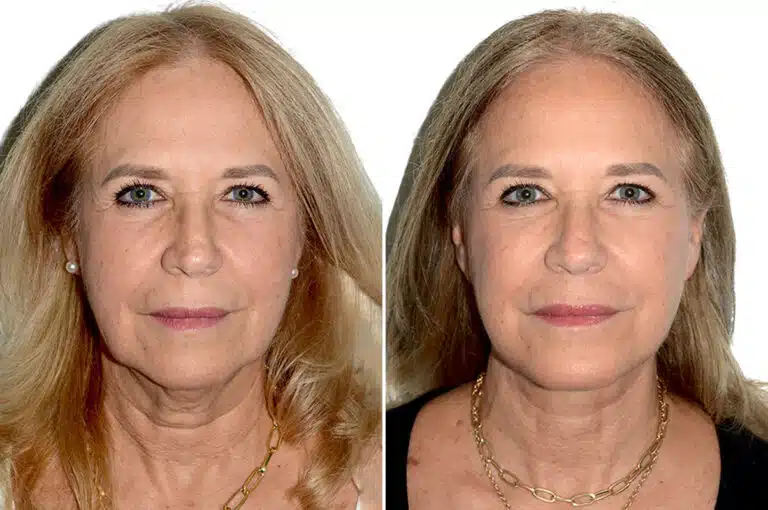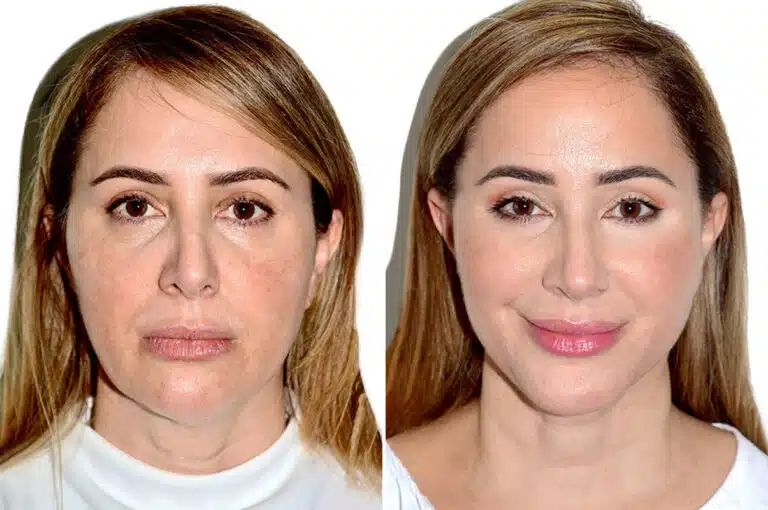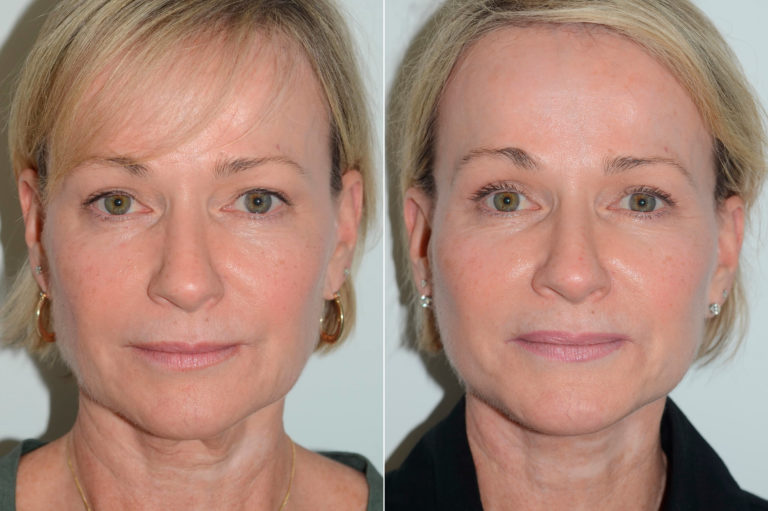 Each patient is unique and individual results may vary*.
Facelift Benefits
The results of a facelift operation usually turn back the clock for approximately ten years and the results last about that long. A properly executed full facelift procedure will elevate the cheeks, improve jowls, tighten the skin of the neck, and restore lost volume.
Most patients who choose to have a facelift do so in their fifties. Occasionally, premature facial aging or weight loss patients will undergo plastic surgery at an earlier age. Younger patients might also consider a less invasive procedure, like a mini facelift.
It is important to care for your skin early on in life and to keep an eye out for the early signs of aging. The type of facelift needed will be dependent on how well you took care of your skin.
The Aging Process
Each patient is unique in the way that their body responds to aging. For some, wrinkles and loose skin are the main complaints. For others, a more drastic change in appearance is desired.
The four visible transformations that the face goes through as a result of the aging process are facial soft tissue descent, facial deflation, radial expansion of the soft facial tissues, and loss of skin laxity or quality.
Aging also causes loss of muscle tone and excess fat in the face. As fat pads in the face begin to atrophy, wrinkles and folds begin to appear. A plastic surgeon can help eliminate wrinkles and improve facial features through a facelift procedure.
A consultation will evaluate the elasticity of the skin, amount of fat and muscle tone, and tissue quality. This will help the surgeon determine the appropriate surgery and technique required.
A properly planned and executed facelift should address these issues to rejuvenate the face and neck fully. When performed by a board-certified plastic surgeon, successful facelift surgery can bring about a more youthful appearance and better facelift results.
Facelift surgery can help with
Sagging jowls
Sagging skin
Excess skin
Excess fat
Facial wrinkles
Double chin
Ideal candidates for Facelift
While it is recommended that patients seeking a facelift already live a healthy lifestyle and have good psychological health, any plans for weight loss should occur before you schedule your facelift.
If you are unsure if you are a good candidate for facelift surgery, please contact us to set up a consultation.
We can also help you with determining which type of surgery is right for you. Learn how Dr. Bustillo's advanced techniques could help restore your confidence by giving you the facelift results that you desire.
Recovering from a Facelift
Following the procedure, activity should be kept to a minimum. The surgeon will wrap the face with a bandage initially to keep the skin flat.
There should be no pain. Tylenol is usually sufficient to relieve minor discomfort. Any significant pain should be reported to Dr. Bustillo right away, as it may indicate bleeding beneath the skin.
The patient is seen the morning after the surgery. The bandage is removed one day after surgery. A small bandage is then worn for one more day.
Dr. Bustillo will remove the stitches underneath the chin and in front of the ears five days after surgery. After ten days, he will remove those behind the ears, as well.
Post-surgery
Patients can usually shower and wash their hair five days after the procedure. Any physical activity, such as running or lifting, can be resumed three weeks after the surgery.
As the healing process is generally fairly quick, most patients can return to work two weeks after their facelift procedure. To know if the patient is able to use makeup after the facial surgery, contact Dr. Bustillo.
The final facelift results may not be completely evident until several months after the procedure. Dr. Andres Bustillo is one of the best facial plastic surgeons in Miami and the majority of patients are extremely satisfied with the results of their facelifts.
If you are unsure about the wellness our facelift procedures could provide you, click here to see the results of Dr. Bustillo's other patients.
How long do the results last?
Thanks to the use of advanced techniques by Dr. Bustillo, the results of your facelift can last for up to ten years & could potentially be prolonged by maintaining a healthy lifestyle and reducing sun exposure.
This does not mean that the face will not progressively age after facial rejuvenation.
Less-invasive surgeries, such as a mini facelift or neck lift, traditionally last for a shorter amount of time and might need to be redone.
If you are wanting to retain your youthful appearance after surgery, consult with your doctor about which type of facelift is right for you.Schedule your consultation here.
Facelift Risks
It is important to only receive a facelift or plastic surgery from a board-certified plastic surgeon as the procedure can have negative consequences if performed poorly.
Types of Facelift Risks
Painful procedure
Facial nerve injury
Unfavorable scarring
Facelift Cost Miami
The cost of a facelift is determined by the doctor performing the surgery and the technique used. The price does not include additional procedures or anesthesia.
Deep Plane Facelift Miami
Dr. Bustillo has been performing the deep plane facelift for over fifteen years. The deep plane facelift addresses the entire face including the midface, nasolabial folds, jowls, and neck. You can learn more about the deep plane facelift here.
Best Miami Facelift
When looking for a facelift doctor, consider their
The best Miami facelift is performed by an experienced surgeon who is board certified. To become a board-certified plastic surgeon in Florida, doctors must pass all requirements of the plastic surgery board.
Facelift requirements
Complete at least six years of surgical training following medical school
A minimum of three years of plastic surgery residency training
Pass comprehensive oral and written exams
Graduate from an accredited medical school
Complete continuing medical education, including patient safety each year
Learn more about the best Miami facelift here.
Schedule a Miami Facelift Consultation Today
Facelifts help our patients regain their confidence and improve their well-being. If you are ready to schedule your facelift surgery or learn more about facelift Miami, contact us today.
Facelift Frequently Asked Questions
How do I reduce swelling after facelift surgery?
Swelling and bruising occur immediately after surgery and fade gradually with time.
70% of the swelling resolves in the first three weeks during the facelift recovery time. The patient should keep their head elevated using two pillows to help reduce swelling of the face and neck.
Following a facial rejuvenation procedure, patients should place small bags of frozen peas, wrapped in a towel, on the face every fifteen minutes for the first two days. We also recommend eating fresh pineapple after the procedure to help reduce swelling.
How long does facelift surgery take?
Dr. Bustillo takes about three to four hours to perform the entire procedure. Healing typically takes a few weeks.
What is the most natural-looking facelift?
The most natural facelift results come from a SMAS (superficial musculoaponeurotic system) facelift surgery. This type of facial plastic surgery targets the underlying facial muscles.
Are facelifts considered to be an outpatient procedure?
A facelift is typically an outpatient and involves general anesthesia. Patients need to consider additional anesthesia fees when looking into pricing for their facelift surgery.
Less invasive operations, such as mini facelifts and neck lifts, can be done using local anesthesia instead.
How painful is a facelift?
Patients typically experience very little pain after a facelift. Because of the swelling, it is normal to feel heavy or bruised.
Why Choose plastic surgeon Dr. Bustillo?