ACTUAL REVISION RHINOPLASTY PATIENT

Dr. Andres Bustillo is an expert in revision rhinoplasty with over 17 years experience and over 4500 nasal surgeries performed to date. Most patients who have revision rhinoplasty with Dr. Bustillo and have realistic expectations end up happy with the results.
Revision Rhinoplasty Before and After Photos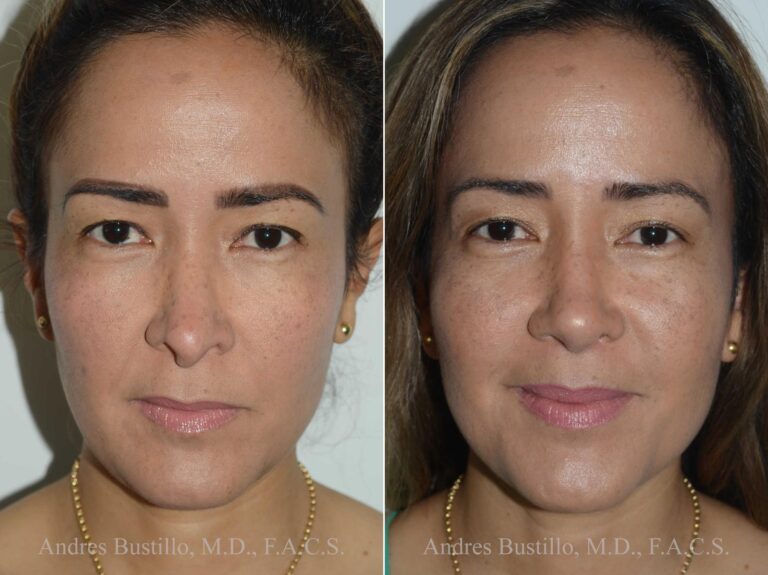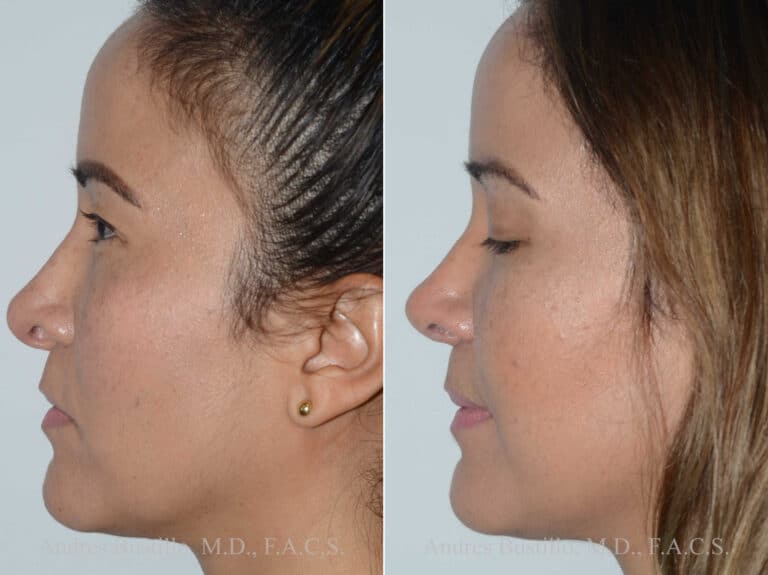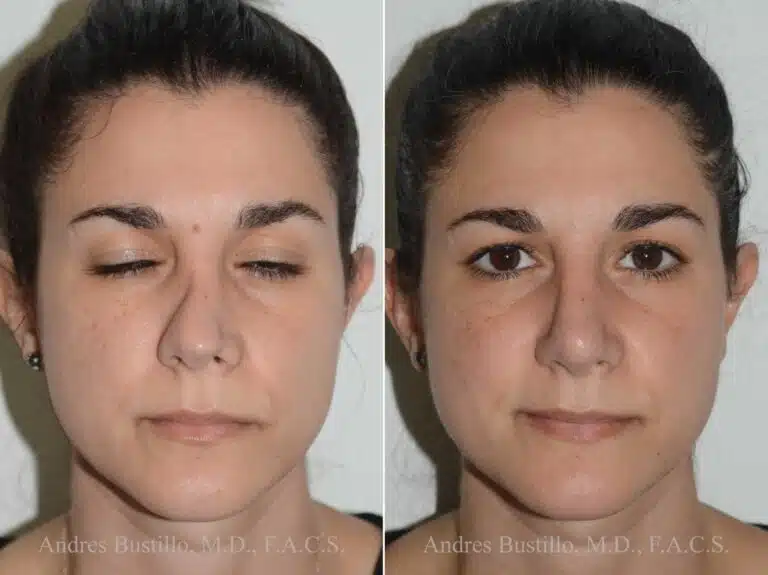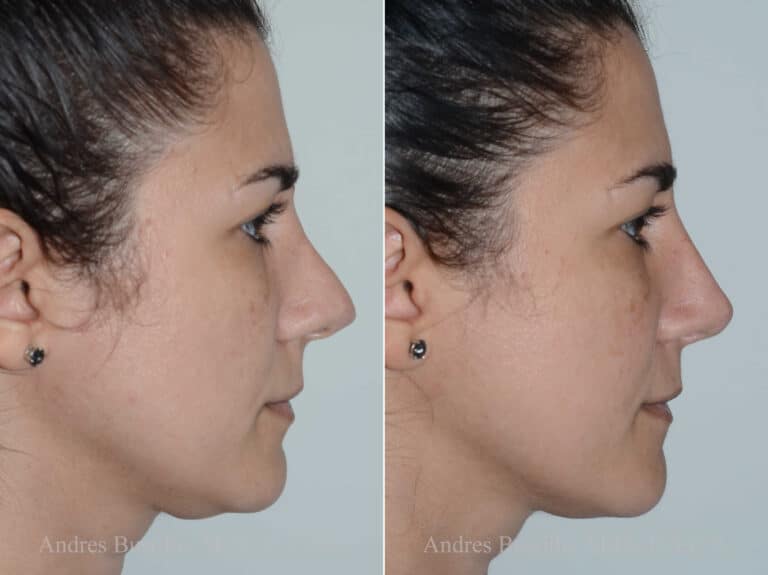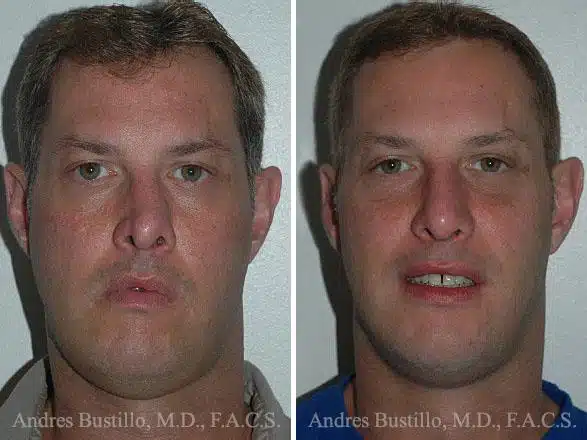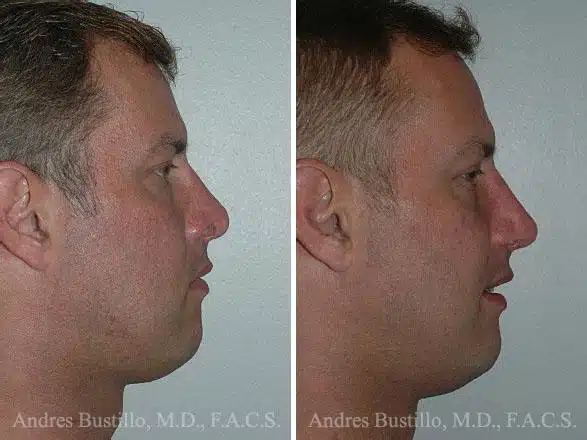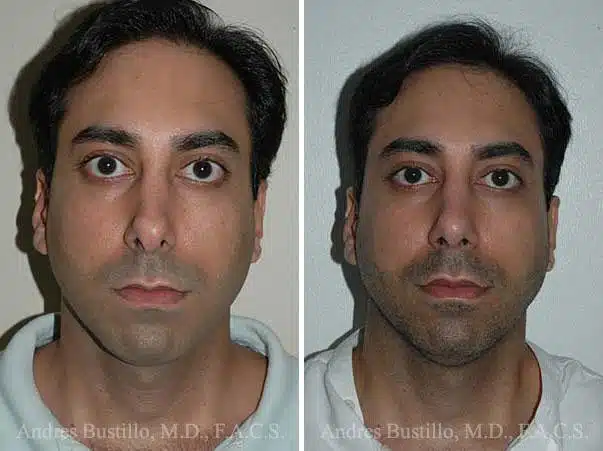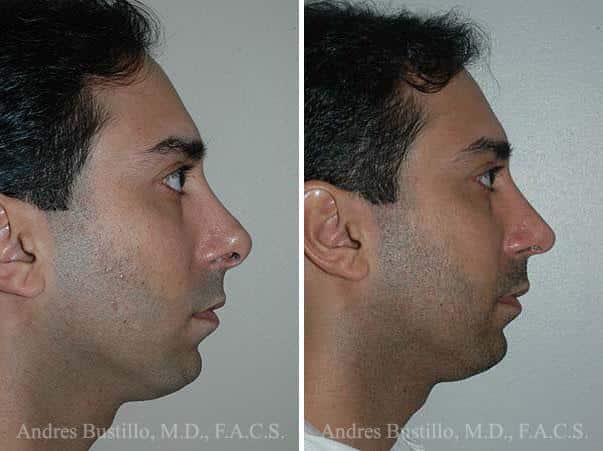 Each patient is unique and individual results may vary*.
Revision Rhinoplasty Patient
Revision Rhinoplasty Benefits
Despite the benefits of improved nasal shape and profile that the majority of revision rhinoplasty patients enjoy, reconstructive surgery is not a precise science. It's important for those who undergo this procedure to keep in mind that the goal of this process is to bring about improvement rather than perfection.
Many people who have been unhappy with the outcome of a prior rhinoplasty feel uncomfortable with the look of their nose. They may be self-conscious or lack confidence in public due to the 'operated' appearance. In several cases, previous rhinoplasty surgery could cause deep breathing difficulties, a collapsed tip, or other issues. These troubles and troubles can be remedied through revision rhinoplasty.
Revision rhinoplasty is a secondary procedure that can be used to correct the issues caused by an original rhinoplasty. This procedure can help to improve nasal obstructions and restore the nasal airway, allowing for better breathing and improved facial aesthetics. Dr. Bustillo has extensive experience in performing revision rhinoplasty, and his expertise ensures that patients receive the best possible outcome from their surgery.
Candidates for Revision Rhinoplasty
Candidates for revision rhinoplasty in Miami have typically undergone an initial rhinoplasty or more rhinoplasty procedures and are seeking a cosmetic surgeon to address unsatisfactory results.
Most revision rhinoplasty patients are unhappy with the tip, bridge or overall proportion of their nose; they may also have asymmetrical nostrils, have changes to their facial features after trauma, be dealing with severe breathing issues related to a sinus obstruction, or simply want to change the shape of their nose by removing bumps or a hump.
No matter the reason why you think you may need a revision rhinoplasty in Miami, it is best to consult with an experienced cosmetic surgeon who can reassess your specific aesthetic and functional needs. Because some degree of scarring is normal with any rhinoplasty procedure (including revision), careful planning is essential for delivering the most natural-looking results possible.
Revision Rhinoplasty Consultation
The revision surgery consultation is your opportunity to discuss and address any questions you might have for Dr. Bustillo about revision rhinoplasty and your candidacy.
Dr. Bustillo begins the consultation with a thorough discussion of the concerns you have about the appearance and function of your nose. Next, he will perform a complete physical examination of the inside and outside of your nose, including the status of the septum and the availability of septal cartilage. The amount of tip support and the status of the nasal tip cartilage will be examined.
During the consultation, Dr. Bustillo will also take pictures of your nose. He uses computer imaging as a tool to give patients a clear idea of the possible results of the surgical procedure. He will then explain the procedure and discuss what can be improved and if so to what degree it can be improved.
It is important to provide your surgeon with a detailed medical history of any previous nose surgeries, procedures or treatments. This will help the surgeon to understand the complexity of the revision rhinoplasty procedure and plan accordingly. During the consultation, Dr. Bustillo will also review any previous procedures that have been done on your nose and discuss how they may affect the outcome of your revision rhinoplasty in Miami. He will also take into consideration any medical conditions you may have that could impact your recovery from surgery.
Questions about your procedure?
Schedule a consultation with Dr. Andres Bustillo.
Revision Rhinoplasty Cost
Revision rhinoplasty cost depends on the complexity of the procedure and the surgical techniques used. Revision procedures such as revision nose surgery can be more expensive than a primary rhinoplasty due to the additional time and skill required to achieve desired results. The cost of revision rhinoplasty may also vary depending on the type of anesthesia used, as well as any additional treatments or procedures that may be necessary. Patients should discuss all costs associated with their revision rhinoplasty with their surgeon prior to undergoing any surgery.
Preparation for Revision Rhinoplasty
Before plastic surgery, all patients are required to have pre-operative labs. Patients over 45 or with certain medical conditions are obliged to get medical clearance before their procedure.
Any products that interfere with blood clotting and might worsen bruising should be discontinued ten days before surgery. A full list will be provided for you by our office. Alcohol intake should be stopped five days before surgery to avoid bleeding, bruising, and nasal swelling.
Dr. Bustillo recommends that all patients take 2000mg of vitamin C daily, one week before and two weeks after revision rhinoplasty to improve healing and lessen bruising.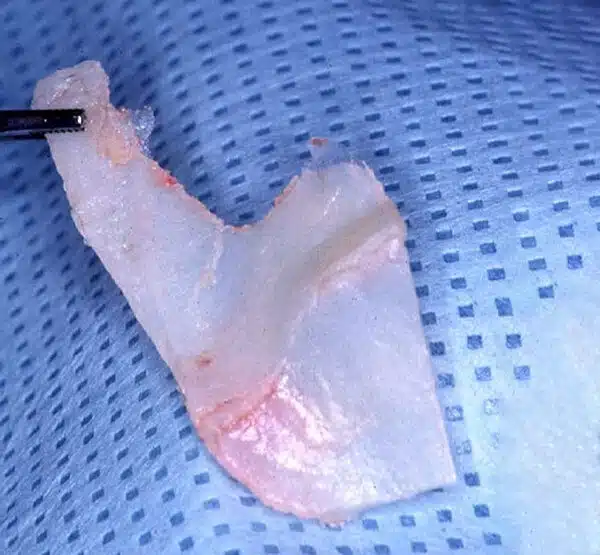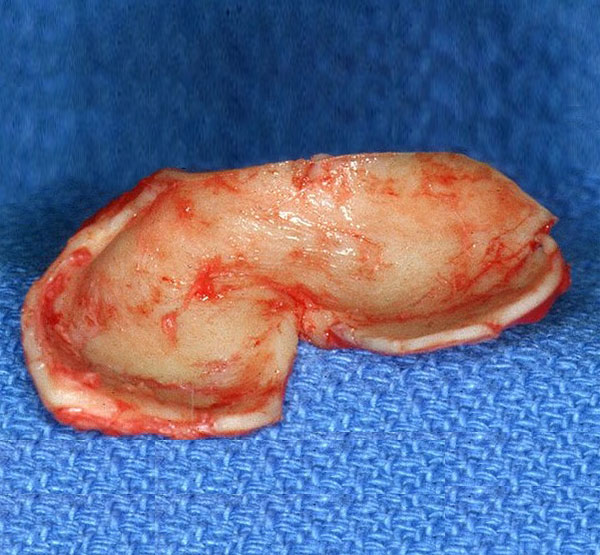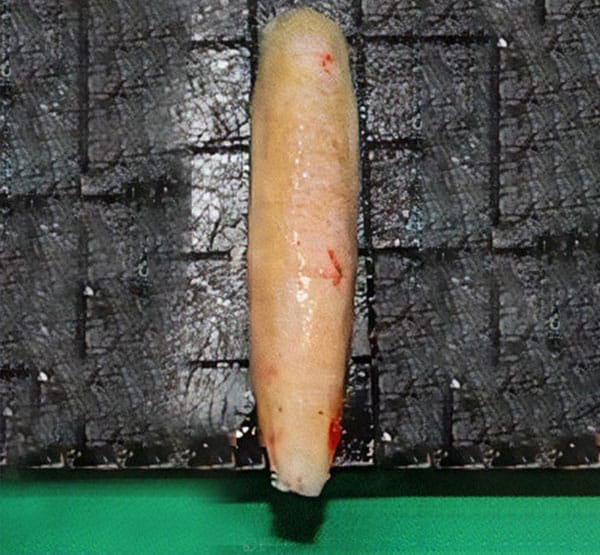 Performing Revision Rhinoplasty Surgery
Dr. Bustillo performs revision rhinoplasty procedures at his certified surgical facility. The anesthesia is provided by board-certified anesthesiologists (MD) who are part of the Anesthesia Department at Baptist Hospital. Revision rhinoplasty surgery takes between two and four hours to perform using general anesthesia. General anesthesia allows Dr. Bustillo to focus on the revision rhinoplasty surgery while the patient is safely asleep with the airway protected and under the care of an anesthesiologist.
Dr. Bustillo usually performs the secondary rhinoplasty in an open approach. The incision is made in the columella of the nose or the "column" of skin between both nostrils. The incision heals well and will be imperceptible once the patient heals. The open approach allows him to more easily see the areas that are causing deformities in the nose and repair them. Dr. Bustillo will attempt to correct all of the deformities present in the nose, including the bridge, the nasal tip, and the septum.
Recovery from Revision Rhinoplasty
Patients should plan to spend the night after revision rhinoplasty in a relaxed atmosphere and maintain a liquid diet for twelve hours after anesthesia. Use two pillows at night to keep the head elevated and reduce swelling. Small bags of frozen peas should be kept on the eyes for ten minutes every hour for the first forty-eight hours to reduce eye and nasal swelling. Most patients who undergo revision rhinoplasty experience minimal if any pain. Tylenol is usually enough to control any discomfort.
You will return to the office about 5-6 days after the surgery to remove the nasal cast. The majority of the swelling around the eyes subsides by this time. Most patients can return to work on the sixth postoperative day.
Nasal swelling after a revision rhinoplasty varies. About seventy percent of the swelling resolves after the first month. The remaining thirty percent of the swelling can take from twelve to twenty-four months to completely dissipate. For a smooth recovery from a revision rhinoplasty follow all of Dr. Bustillo's indications.
After the twelfth month, Dr. Bustillo will take "after" photographs and will give them to you along with the pre-operative photos. The great majority of patients who undergo revision rhinoplasty with Dr. Bustillo are very happy with the final result.
Revision Rhinoplasty Risks
Revision rhinoplasty is a complex procedure and carries with it specific risks. Anytime a patient chooses to undergo surgery, there will be associated risks that are to be taken into account. When considering revision rhinoplasty in Miami, there are several potential risks of which you should be aware.
The most common risk of revision rhinoplasty is infection or complications from the anesthetic being used. In some cases, your surgeon might choose to use synthetic or artificial materials in order to augment the existing tissue for increased projection and definition. These foreign objects may also present their own set of problems if not correctly placed, such as implant displacement or granuloma formation.
In addition, revision rhinoplasty can lead to prolonged swelling or cosmetic deformities that require further corrective procedures down the line. The shape of your nose may also change over time due to aging, lifestyle habits, and environmental factors, requiring additional surgery in order to maintain your desired look. Additionally, an experienced surgeon often has their own techniques and preferences when it comes to performing a successful revision rhinoplasty — choosing the wrong surgeon could result in subpar results or even damage beyond repair.
Revision Rhinoplasty Aftercare
Revision rhinoplasty aftercare is an important part of the recovery process. It is essential to follow your surgeon's instructions carefully in order to ensure a successful outcome. After surgery, it is important to keep the head elevated and avoid strenuous activity for several weeks. Additionally, patients should avoid blowing their nose or sneezing forcefully as this can cause damage to the nasal septum.
It is also important to be aware of any changes in the appearance of your nose that may occur due to previous surgery or trauma. If you notice any changes, contact your doctor immediately so they can assess the situation and provide appropriate treatment if necessary. In some cases, revision rhinoplasty may be required in order to correct any issues that have arisen from previous surgery or trauma.
In addition, it is important to take care of your nasal septum following revision rhinoplasty. This includes avoiding picking at scabs or crusts that form on the septum and avoiding activities such as swimming or diving which could put pressure on the area and cause further damage. Additionally, using a saline spray regularly can help keep the area clean and reduce inflammation and irritation.
Finally, it is essential to attend all follow-up appointments with your surgeon in order to ensure that the healing process is going as expected.
Revision rhinoplasty in Miami can be a complex and delicate procedure, but with the right surgeon and aftercare, you can achieve the desired results.
Revision Rhinoplasty FAQs
How much does revision rhinoplasty cost?
The cost of a revision rhinoplasty varies depending on the surgeon and what needs to be done to the nose. Our office will give you an estimate of fees open scheduling a consultation. The exact fees will be given once you consult with Dr. Bustillo.
Who is the best revision rhinoplasty surgeon?
The reality is that there is no best revision rhinoplasty surgeon. Any good surgeon can have complications or a less-than-perfect result.
 
However, Dr. Bustillo firmly believes that facial plastic surgeons have a significant advantage over plastic surgeons when it comes to revision rhinoplasty. Facial plastic surgeons have been trained in Otolaryngology-Head and Neck Surgery as well as Facial Plastic and Reconstructive Surgery and know the nose better than surgeons in any other surgical specialty.
How many revision rhinoplasties can you have?
There is no limit to the number of revision rhinoplasties a patient can have. However, each revision rhinoplasty procedure comes with new risks and complications. Often, the nasal cartilage has been removed and scar tissue has replaced much of the structural framework. The nasal structures must be recreated using cartilage grafts to restore the framework of the nose. The skin envelope, which can be possible to improve, can be damaged by multiple surgeries making the revision extremely difficult.
 
Septal cartilage is ideal for the making of grafts because it is strong, thin, and resistant to warping. Oftentimes, patients undergoing revision rhinoplasty may have had septal cartilage removed during their previous plastic surgery. Instead, ear or rib cartilage is used to create revision rhinoplasty grafts.
How long do you have to wait for revision rhinoplasty?
Patients are advised to wait until they have fully recovered from their previous rhinoplasty procedure to consider revision rhinoplasty. Recovery times vary depending on skin thickness. On average, patients should wait for a year to a year and a half before considering secondary surgery.
What is the difference between primary and revision rhinoplasty?
Primary rhinoplasty refers to your first nose job. Revision rhinoplasty is any procedure after the first that is performed to alter the results. During revision rhinoplasty, surgeons also have to deal with complications such as scar tissue or a lack of available cartilage.
What is the downtime for revision rhinoplasty surgery?
Patients should take about a week off to recover after revision rhinoplasty surgery. Do not exercise until three weeks after your secondary nasal surgery. Exercising during the immediate recovery phase will cause your nose to swell excessively and prolong your recovery.
Why Choose plastic surgeon Dr. Bustillo?