In an ideal world, every rhinoplasty surgery patient would be thrilled with their results. However, you may find that even if you were initially happy with your rhinoplasty, the appearance of the nose may have changed over time.
Dr. Andres Bustillo is an expert in revision rhinoplasty with over 17 years experience and over 4500 nasal surgeries performed to date. Most patients who have revision rhinoplasty with Dr. Bustillo and have realistic expectations end up happy with the results.
What is Revision Rhinoplasty?
Revision rhinoplasty involves re-operating on a nose to improve the result of a prior rhinoplasty. This procedure is one of the most difficult plastic surgeries to perform because it is very technically challenging. Damaged soft tissues, fibrosis and scar tissue formation, prior aggressive removal of cartilage and bone can make repair difficult and complex.
Revision rhinoplasty takes two forms. The first is the small "touch-up" revision of an acceptable previous result. The patient may be happy with the overall appearance of the nose but may wish for a slight improvement. The second form is when revision rhinoplasty is performed to transform a previous poor result. Experience, pre-operative planning, and advanced techniques are essential for a good revision rhinoplasty outcome.
Benefits
While most revision rhinoplasty patients enjoy the benefits of an improved nasal shape and profile, reconstructive surgery is not a perfect science. The patient who is undergoing a revision rhinoplasty must understand that improvement, not perfection, is the goal of this procedure.
Patients who suffer from a poor prior rhinoplasty result often feel uncomfortable with the appearance of their nose. They may feel embarrassed or insecure in social situations if the nose has an operated appearance. In some cases, the previous nasal surgery may have caused severe nasal obstruction, a collapsed nasal tip, and possibly other issues. These issues and problems can be improved through revision rhinoplasty.
Consultation
The consultation is your opportunity to discuss and address any questions you might have for Dr. Bustillo about revision rhinoplasty and your candidacy.
Dr. Bustillo begins the consultation with a thorough discussion of the concerns you have about the appearance and function of your nose. Next, he will perform a complete physical examination of the inside and outside of your nose, including the status of the septum and the availability of septal cartilage. The amount of tip support and the status of the nasal tip cartilages will be examined.
During the consultation, Dr. Bustillo will also take pictures of your nose. He uses computer imaging as a tool to give patients a clear idea of the possible results of the surgical procedure. He will then explain the procedure and discuss what can be improved and if so to what degree it can be improved.
Preparation
All patients will obtain pre-operative labs several weeks before plastic surgery. Patients older than 45 years of age or with certain medical conditions will have to obtain a medical clearance before surgery.
Any products that interfere with blood clotting and might worsen bruising should be discontinued ten days before surgery. A full list will be provided for you by our office. Alcohol intake should be stopped five days before surgery to avoid bleeding, bruising, and nasal swelling.
Dr. Bustillo recommends that all patients take 2000mg of vitamin C daily, one week before and two weeks after revision rhinoplasty to improve healing and lessen bruising.
How is the Revision Rhinoplasty Surgery
Dr. Bustillo performs revision rhinoplasty procedures at his certified surgical facility. The anesthesia is provided by board-certified anesthesiologists (MD) who are part of the Anesthesia Department at Baptist Hospital.
Revision rhinoplasty surgery takes between two and four hours to perform using general anesthesia. General anesthesia allows Dr. Bustillo to focus on the revision rhinoplasty surgery while the patient is safely asleep with the airway protected and under the care of an anesthesiologist.
Dr. Bustillo usually performs the secondary rhinoplasty in an open approach. The incision is made in the columella of the nose or the "column" of skin between both nostrils. The incision heals well and will be imperceptible once the patient heals. The open approach allows him to more easily see the areas that are causing deformities in the nose and repair them. Dr. Bustillo will attempt to correct all of the deformities present in the nose, including the bridge, the nasal tip, and the septum.
Recovery
Patients should plan to spend the night after revision rhinoplasty in a relaxed atmosphere and maintain a liquid diet for twelve hours after anesthesia. Use two pillows at night to keep the head elevated and reduce swelling. Small bags of frozen peas should be kept on the eyes for ten minutes every hour for the first forty-eight hours to reduce eye and nasal swelling.  Most patients who undergo revision rhinoplasty experience minimal if any pain. Tylenol is usually enough to control any discomfort.
You will return to the office about 5-6 days after the surgery to remove the nasal cast. The majority of the swelling around the eyes subsides by this time. Most patients can return to work on the sixth postoperative day.
Nasal swelling after a revision rhinoplasty varies. About seventy percent of the swelling resolves after the first month. The remaining thirty percent of the swelling can take from twelve to twenty four months to completely dissipate.
After the twelfth month, Dr. Bustillo will take "after" photographs and will give them to you along with the pre-operative photos. The great majority of patients who undergo revision rhinoplasty with Dr. Bustillo are very happy with the final result.
Revision Rhinoplasty Before and After Photos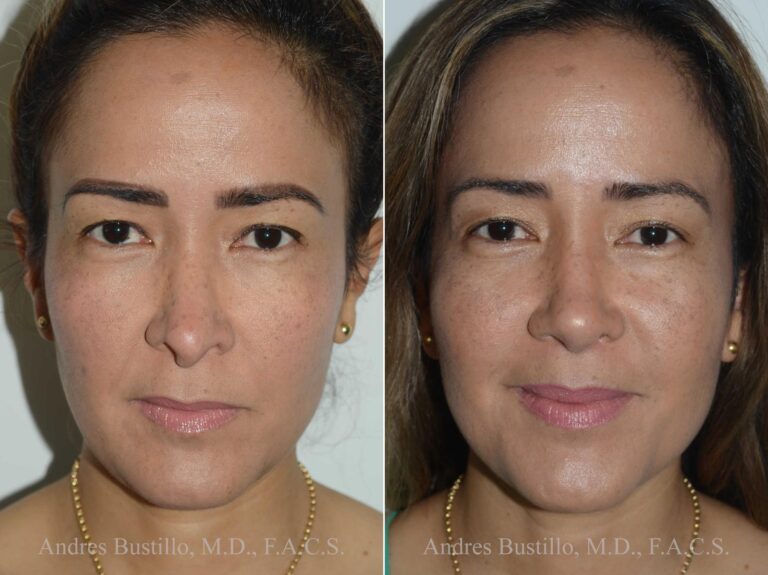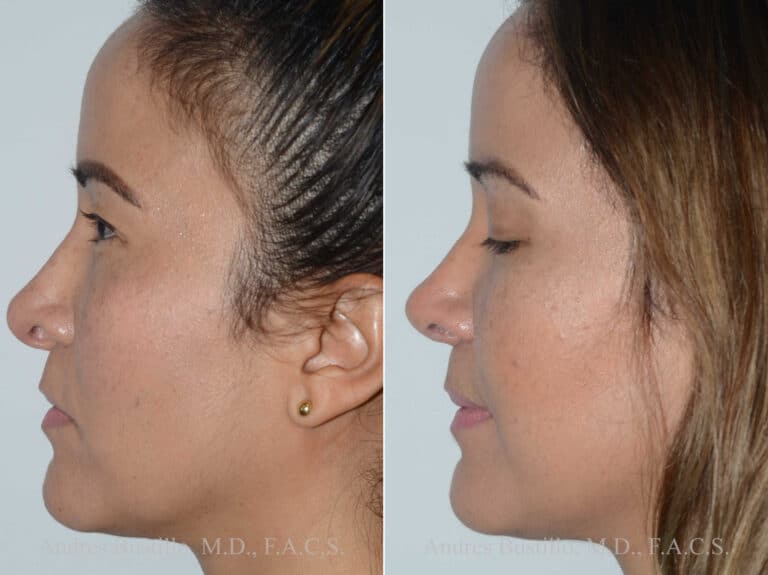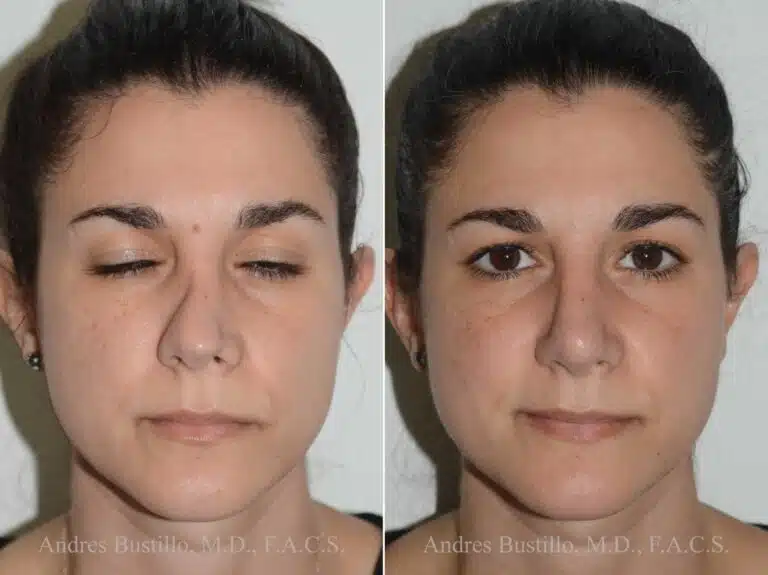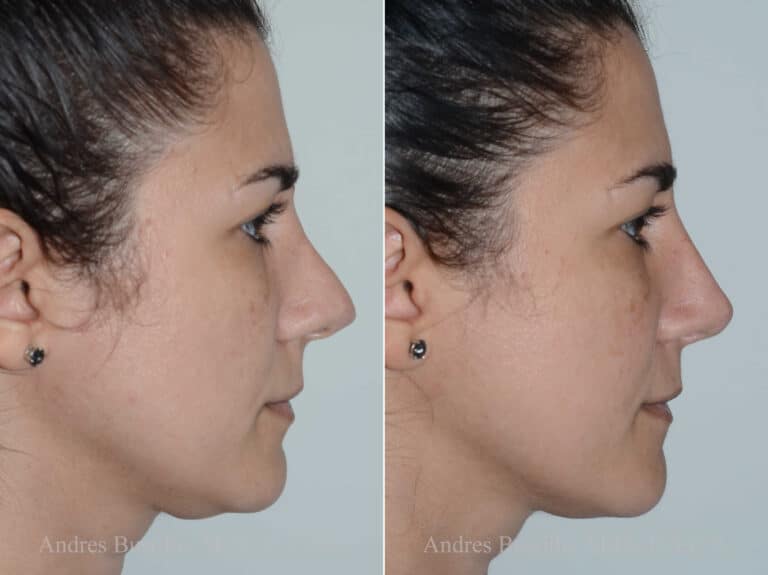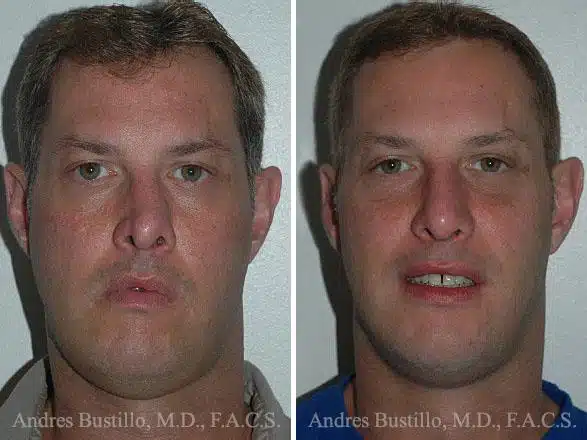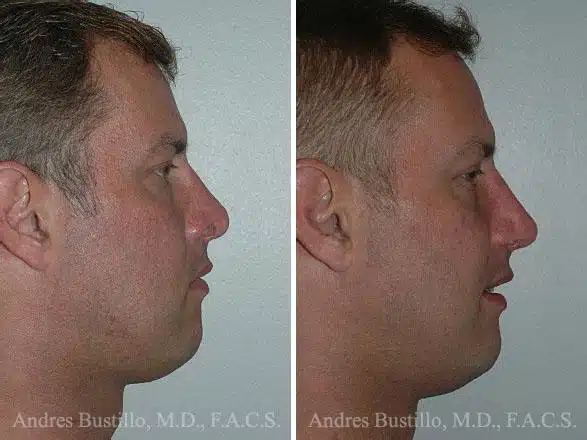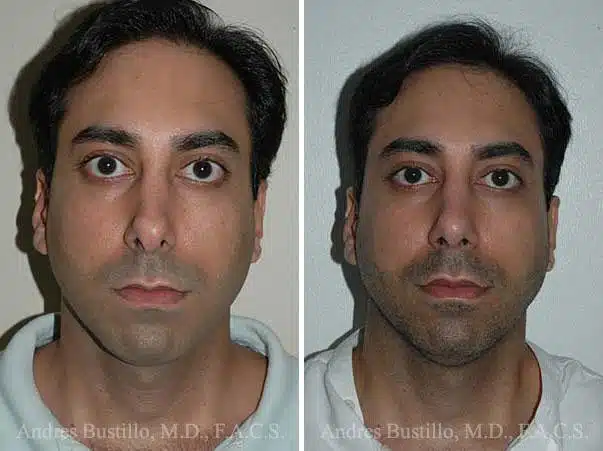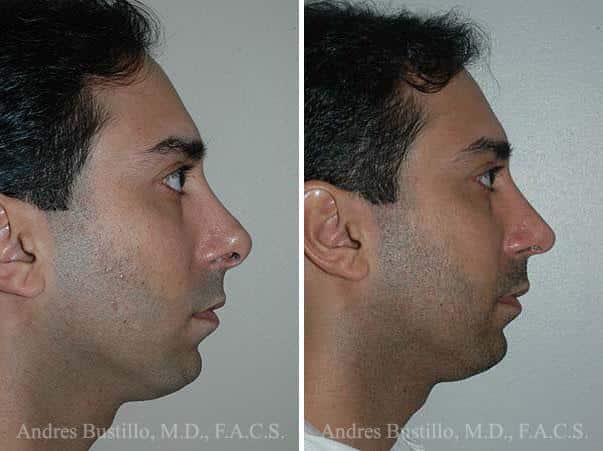 * Each patient is unique and individual results may vary.
Revision Rhinoplasty FAQs
Who is the best revision rhinoplasty surgeon?
The reality is that there is no best revision rhinoplasty surgeon. Any good surgeon can have complications or a less than perfect result.
 
However, Dr. Bustillo firmly believes that facial plastic surgeons have a significant advantage over plastic surgeons when it comes to revision rhinoplasty. Facial plastic surgeons have been trained in Otolaryngology-Head and Neck Surgery as well as Facial Plastic and Reconstructive Surgery and know the nose better than surgeons in any other surgical specialty.
How many revision rhinoplasties can you have?
There is no limit to the number of revision rhinoplasties a patient can have. However, each revision rhinoplasty procedure comes with new risks and complications. Often, the nasal cartilage has been removed and scar tissue has replaced much of the structural framework. The nasal structures must be recreated using cartilage grafts to restore the framework of the nose. The skin envelope, which can be possible to improve, can be damaged by multiple surgeries making the revision extremely difficult.
 
Septal cartilage is ideal for the making of grafts because it is strong, thin, and resistant to warping. Oftentimes, patients undergoing revision rhinoplasty may have had septal cartilage removed during their previous plastic surgery. Instead, ear or rib cartilage is used to create revision rhinoplasty grafts.
How long do you have to wait for revision rhinoplasty?
Patients are advised to wait until they have fully recovered from their previous rhinoplasty procedure to consider revision rhinoplasty. Recovery times vary depending on skin thickness. On average, patients should wait for a year to a year and a half before considering secondary surgery.
What is the difference between primary and revision rhinoplasty?
Primary rhinoplasty refers to your first nose job. Revision rhinoplasty is any procedure after the first that is performed to alter the results. During revision rhinoplasty, surgeons also have to deal with complications such as scar tissue or a lack of available cartilage.
What is the downtime for revision rhinoplasty surgery?
Patients should take about a week off to recover after revision rhinoplasty surgery. Do not exercise until three weeks after your secondary nasal surgery. Exercising during the immediate recovery phase will cause your nose to swell excessively and prolong your recovery.
Contact Us Today
After the discomfort and time of rhinoplasty surgery, a poor result can be extremely discouraging. As a double board-certified plastic surgeon, Dr. Bustillo has a deep understanding of facial features and nasal anatomy, along with years of specialized training to create beautifully balanced facial proportions. If you're looking for revision rhinoplasty in Miami, FL, contact us today at 305.663.3380 to schedule a consultation.