What is a Brow lift?
A brow lift, also known as a forehead lift, is a plastic surgery procedure used to smooth the forehead and elevate brows back to their natural, more youthful position. A brow lift does not "stop the clock," but rather turns it back, as the natural facial aging process continues after the procedure.
Types of Brow Lift Procedures
Endoscopic lift
In an endoscopic lift, three small incisions are made on the forehead. A small camera, known as an endoscope, is then used to gently elevate the tissues off the forehead. The brow and forehead are then reattached at a new, higher level. The advantage of this approach is that the incisions are small and recovery is quick. However, heavy or low brows cannot be adequately lifted with this technique.
Hairline brow lift
In a hairline brow lift, a beveled (cut at an angle) incision is made at the hairline. The angle of the cut makes it so that the scar will be almost invisible when it heals. This is typically for patients who have a high forehead, as they are not good candidates for the other two styles of the procedure.
Traditional brow lift
In a coronal (traditional) brow lift, an incision is made on your scalp that will later be hidden by your hair. The procedure will elevate your hairline and thus is used for patients with a low hairline and/or brows. This technique provides the best and longest-lasting elevation of the brows and forehead. However, it has the longest recovery time of the three and carries with it a small risk of hair loss and forehead numbness.
Brow Lift Benefits
A brow lift can raise your eyebrows and smooth out forehead wrinkles, which will enhance your appearance and potentially improve your vision. Those heavy worry lines can be a thing of the past!
Am I a good candidate for Brow Lift?
The ideal female eyebrow is a gently curved brow that arches just slightly above the superior orbital rim, and the ideal male eyebrow is straight and just slightly above the superior orbital rim. A brow lift can assist in achieving this ideal.
Good candidates for the procedure include men and women who are physically healthy, realistic in their expectations, and seek to improve the appearance of a sagging brow and/or eyelids or smooth out deep furrows between the eyes to recover their youthful appearance. Most patients that undergo the brow lift procedure are forty years of age or older.
Browlift Before and After Photos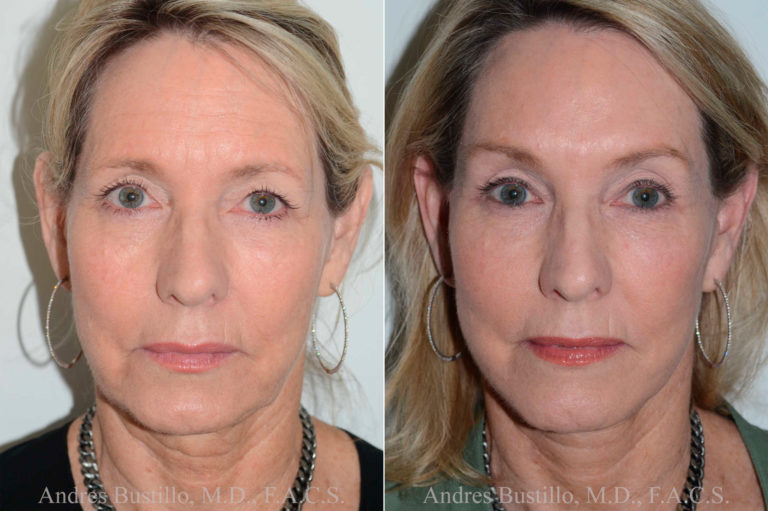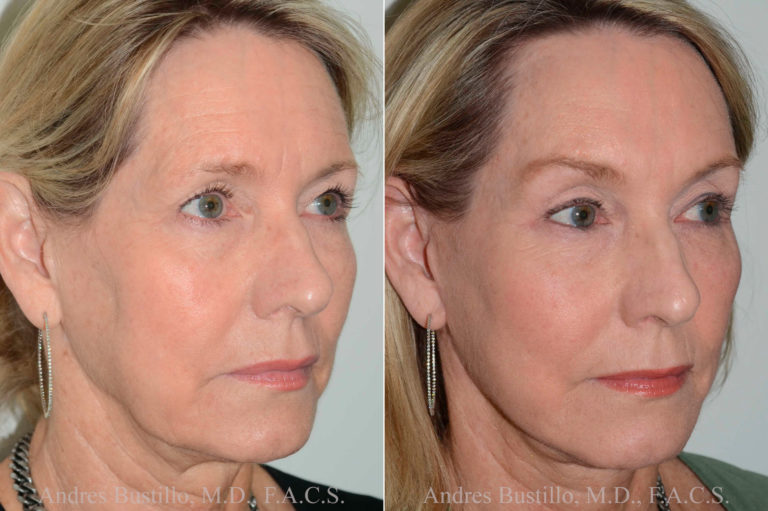 Each patient is unique and individual results may vary*.
Preparing for Brow Lift Surgery
All patients undergoing the brow lift operation will need to have a medical examination by their primary care physician beforehand. Any aspirin, anti-inflammatory products (ex: naproxen, ibuprofen), and vitamins such as Ginkgo Biloba and St. John's Wort should be discontinued at least ten days before surgery, as these medications may interfere with blood clotting and cause bruising. Patients should also not drink alcohol for at least five days before surgery to help cut down on swelling.
Dr. Bustillo will also prescribe high-dose vitamin C two weeks before the surgery, and for two weeks afterward to assist in healing and reduce bruising.
Brow lifts are performed either under IV sedation or general anesthesia, depending on if other procedures are combined with the brow lift. If only the brow lift is being performed, the surgery takes about one hour. If an eyelift (blepharoplasty) and facelift are also being performed, the surgery can take up to four hours. Dr. Bustillo will help you decide which options are best for you at your consultation.
Brow Lift Risks and Side Effects
A brow lift operation, like any surgery, carries risks. If the forehead lift procedure is being done as a single procedure, IV sedation can be used. If it is combined with eyelid surgery or with a facelift, either LMA (masked) or general anesthesia will be used. Dr. Bustillo will go over the risks of anesthesia with you before the procedure.
Additional, possible postoperative risks include infection, hair loss, scarring, and loss of sensation in or ability to elevate the eyebrow, which is usually temporary. Most patients who undergo a forehead lift procedure complain of a mild headache or slight pressure in the forehead for the first few hours after surgery. If an eyelift was performed, some mild bruising may also be visible around the eyes. Over-the-counter pain medication, such as Tylenol, is typically enough to alleviate symptoms, though stronger painkillers may be prescribed on a case-by-case basis. Pain medication is seldom needed after the first night post-surgery.
Nicotine causes the small blood vessels to become narrower, which decreases the blood flow to the skin. Therefore, patients who smoke should refrain from doing so or using nicotine patches for at least two weeks before the surgery. Additional potential complications for smokers include the death of the facial skin, facial scarring, and possible infection. Dr. Bustillo will not perform brow lifts on active smokers.
Significant postoperative pain should be reported to our offices immediately, as it may signal bleeding under the skin. This is extremely rare, but it is possible.
What to Expect During Recovery After Brow Lift
Patients should have a caretaker with them for at least one day after surgery. This person does not need to be a medical professional and can be a family member or friend who can assist with eating, walking, and any other chores. Dr. Bustillo's office can coordinate a home service to help patients with these activities, as well.
The night after the surgery, activity should be kept to a minimum. Patients should also maintain a liquid diet for the first eighteen hours after anesthesia. The head should be kept elevated using two pillows to help reduce swelling. For every hour spent awake for the first 48 hours, Dr. Bustillo recommends placing small Ziploc bags with frozen peas on the eyes for 10 minutes. So, if you are awake for 24 of those 48 hours, you should use the bags with frozen peas for a total of 240 minutes, or 4 hours.
Patients are seen in the office the day after surgery to remove a light forehead dressing, and some bruising is normal. On the tenth postoperative day, the small sutures are removed, after which Patients can shower and wash their hair.
About eighty percent of the swelling resolves within the first week, post-surgery, and the remainder is typically resolved by the third week. Most people feel comfortable going about their daily lives 7-10 days post-operation since any swelling is typically no longer noticeable to others. However, it is recommended that strenuous physical activity, such as running or weightlifting, not be resumed until four weeks post-surgery.
The results of a brow lift operation usually "turn back the clock" approximately ten years, and the results typically last about ten years.
Why Choose plastic surgeon Dr. Bustillo?
Brow lift FAQs
Are There Scars After A Brow Lift?
In all three procedures, Dr. Bustillo will do everything possible to hide the incision scars, since the goal of a brow lift procedure is to enhance one's appearance. The incisions for the brow lift will be well concealed and unnoticeable once you've healed.
How Much Does A Brow Lift Cost? Will My Insurance Cover The Cost?
The average cost of a brow lift depends on the patient and their insurance, including the costs of the operating room and anesthesia. 

Procedures performed solely for cosmetic purposes are generally not covered by insurance. If the procedure is performed to correct a sagging forehead or brow that is interfering with vision, however, it is possible insurance may cover part or all of it. Patients should check with their insurance carriers before making a decision regarding a brow lift.
What Is A Botox Brow Lift? Is It An Effective Procedure?
"Liquid facelift" is a term used to describe the use of fillers and Botox to rejuvenate the face. Fillers are used in the cheeks, nasolabial folds (indents on the sides of the mouth), and in the lower face to soften lines and augment the cheeks. Botox can be used to soften or remove forehead wrinkles, as well as to elevate the eyebrows.

There is a limit to the amount of lift Botox can create, however. Injectable treatments can both improve the appearance of patients who are not ready for surgery or can be combined with surgery to achieve an enhanced overall outcome.
What Brow Lift office is near me?
If you live near Miami, FL, Dr. Andres Bustillo offers Brow Lift among its services and is conveniently located at 6705 Red Rd #602, Miami, FL 33143.