Ever noticed how noses are different and unique in their ways? Well, a bulbous nose or fat nose is one such example distinguished by its wide and round tip. It's fascinating to see a diverse range of noses and how each contributes significantly to individual facial aesthetics. But what if someone isn't happy with their bulbous nose? Here's where rhinoplasty comes in handy. This cosmetic surgery is all about modifying the shape and size of the nose to fit personal desires or correct medical complications. From surgical to non-surgical means, these procedures open a world of possibilities for people pursuing a change of their nasal features. Interesting, right? Let's dive deeper.
Understanding the Nose Shape
The shape of your nose is an integral part of your facial features and is determined by a combination of bones, cartilage, and soft tissue. The bones, located in the middle of your face, are oblong-shaped and provide the framework for the nasal bridge that connects your eyes to the tip of your nose. Cartilage lies below the nasal bones and helps to keep nostrils open and provide support. It also shapes the tip of your nose. Lastly, there is the nasal septum – this structure divides your left and right nasal cavities. It is composed of both bone and cartilage, which helps give it its shape as well as providing support.
The shape of your nose has both functional and aesthetic significance. Various factors, such as ethnicity, age, trauma, or acquired conditions, can influence its appearance and contribute to each individual's unique look. These structures collectively contribute to the formation of our noses.
Bulbous Nose: Recognizing its Anatomical Features
The distinct anatomy of a bulbous nose often entails it having a round, wide, or bulky tip. This nose shape often results from excess tissue on the nasal tip or enlarged lateral cartilage.
Furthermore, in cases of a bulbous nose, the nasal passages might become broader and the bone structure more prominent. This aspect considerably influences the overall shape of the nose. The perfect nose, seen from the perspective of facial aesthetics, can be rather subjective. Different types of noses indeed carry varied societal definitions of beauty.
Nose tip surgery could prove beneficial in shaping a bulbous nose. Here, the doctor trims the excess tissue or resets the nasal bones, which often leads to a more appealing result for the individual.
Causes of a Bulbous Nose
A bulbous nose tip is a nasal deformity characterized by excess cartilage and an enlarged or swollen shape at the end of your nose. This can be caused when the cartilage at the tip of your nose is convex, or curved outward, spaced too far apart, making your nose tip appear too wide. A bulbous nasal tip also occurs because of poor cartilage strength or thickness of the nasal skin. These conditions can create a rounded "lightbulb" look to one's profile as well as affect their breathing and other nasal functions.
Genetics are perhaps the most common underlying cause for this shape, as some people are born already sporting a more prominent tip. Other causes include trauma or injuries to the nose, which can dramatically alter its shape; this includes direct blows or previous rhinoplasty procedures. Aging can also contribute to this unsightly appearance, as collagen and elastin in the skin around the nose decrease with age and cause the tip to become softer and more rounded. Certain medical conditions, such as rosacea, are also known to produce thickening tissue complexity that leads to excessive widening of the areas affected, like the nose.
Fortunately, there are effective treatments available for those dealing with this condition.
Rhinoplasty Options for Fat Noses
Rhinoplasty, commonly known as a nose job, can be a solution for those confronting the aesthetic and physical discomforts of a bulbous nose. This surgical procedure involves remodeling and correcting the bulging appearance. There are different approaches used in a bulbous nose job Miami:
Surgery for Bulbous Tip Nose
Bulbous tip nose surgery, also sometimes referred to as rhino-tip surgery or tip-plasty, is a specialized type of rhinoplasty that specifically targets the cosmetic concerns affecting the nasal tip. As part of a bulbous nose job, the volume of the tip may be reduced and reshaped, and the angle can be altered to make it look more attractive. The width of the nasal tip can also be adjusted.
This rhinoplasty approach requires a skillful surgeon with an eye for precision and detail to achieve the desired results. During the procedure, your doctor may use surgical techniques such as cartilage grafting and suturing to restructure your nose and make it look more appealing.
It's important to follow your surgeon's pre-operative and post-operative instructions, like avoiding strenuous activities, to ensure that you get optimal outcomes.
Closed Rhinoplasty
A closed rhinoplasty is a type of plastic surgery procedure most commonly used to reshape the nose. Its primary goal is to improve the appearance of the nose by making subtle changes, such as refining the shape, balancing irregularities in size or profile, and/or improving structural defects. During a closed rhinoplasty, all incisions made by your surgeon remain on the inside of the nose; there are no external incisions nor any visible scars on the outside.
There are several benefits to using a surgical approach for rhinoplasty. These include decreased recovery time and less post-operative swelling. This approach is particularly attractive for those wanting a natural result because there is no external scarring involved. During the procedure, the surgeon adjusts cartilage or bone to change the shape and size of nasal structures for cosmetic improvement. Other procedures, like turbinate reduction, can also be done at the same time to improve function and airflow within the nasal cavity.
Open Rhinoplasty
It is used to give the nose more shape, size, or symmetry. The surgery involves making an incision on the outside of the nose, creating a small inverted V-shaped incision at the base of the nose under the columella, which separates and connects two nostrils for better access to the cartilage inside. With this open technique, facial plastic surgeons can gain improved visibility of tissue across and above the bridge line as well as manipulation of thick skin across tip structures and additional projection if needed. Since this incision is made between nostrils, there won't be any visible scars or marks after the recovery period, giving this method an edge over traditional rhinoplasty Miami.
Patients should be aware that because open rhinoplasty involves making slight external cuts in addition to cutting internally into the nasal passages, it often requires more time for healing and, therefore, may not be recommended for certain cases where quicker healing time is desired.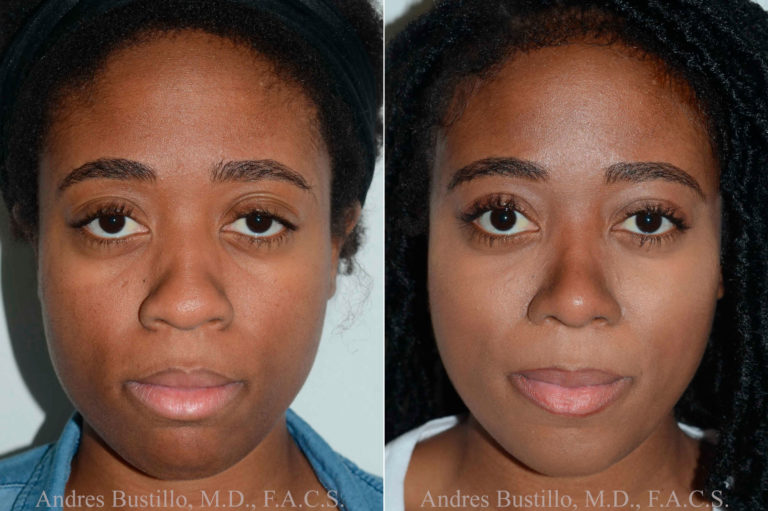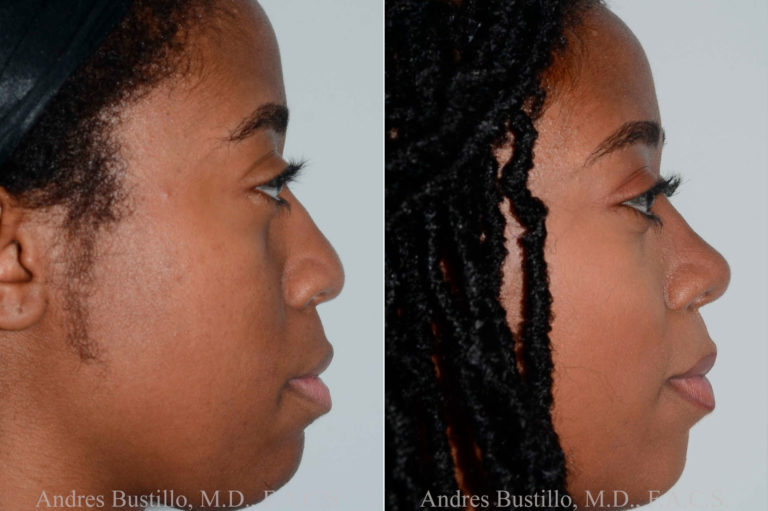 The Non-surgical Route To Addressing A Bulbous Nose
Non-surgical nose jobs are a viable solution for those who aren't keen on surgery, particularly those with a bulbous nose. By injecting dermal filler into precise locations, a skilled doctor can reshape the bulbous nose to a more appealing contour.
Liquid rhinoplasty often takes less than an hour and has minimal recovery time. Non-surgical options provide a less invasive approach for those seeking a nose job without the anxiety of surgery and natural-looking results.
Am I A Good Candidate for Bulbous Nose Surgery?
If you're unhappy with the size or shape of your nose and have thick nasal tip skin, you might be a good candidate for rhinoplasty surgery. Those interested consider Miami nose job surgery as a solution to achieve an esthetically balanced face.
Maintaining realistic expectations, being in good health, and possessing the ability for optimal healing are key criteria that qualify a person as a candidate for rhinoplasty. In some cases, ethnic rhinoplasty may be required, as anatomical variation may affect the surgical approach. Always consult with a professional to assess your eligibility.
The Bulbous Tip Rhinoplasty Consultation
During this preliminary meeting, surgeons delve into the rhinoplasty patient's medical history, discuss the procedure in detail, and anticipate potential outcomes, ensuring that the patient is optimally prepared for the upcoming surgery.
To maximize the benefit of your initial consultation, you should come prepared. This includes bringing a list of questions or concerns you might have about the surgery. The more information you have, the better equipped the surgeons are to tailor the procedure to your needs. This comprehensive approach to patient care underscores the significance of the rhinoplasty consultation.
Consult with a Rhinoplasty Surgeon
When it comes to nasal anatomy and facial plastic surgery, experience and understanding are essential. Dr. Andres Bustillo is a board-certified plastic surgeon who has years of practice and expertise in dealing with noses with bulbous appearance. They have helped numerous patients achieve their desired outcomes and enhance their facial aesthetic. If you're considering addressing issues with a bulbous nose, Dr. Bustillo can provide proven success. Schedule a consultation today to embark on a journey towards aesthetic balance and improved quality of life.