Questions about your procedure?
Schedule a consultation with Dr. Andres Bustillo.
Rhinoplasty Before and After Photos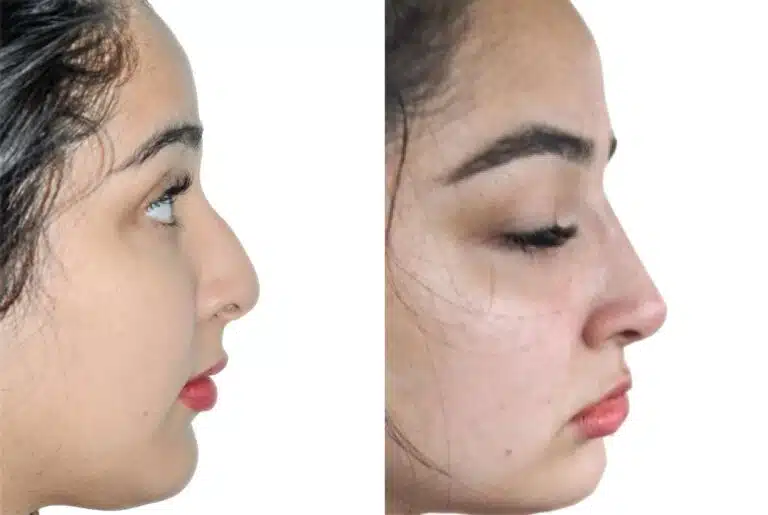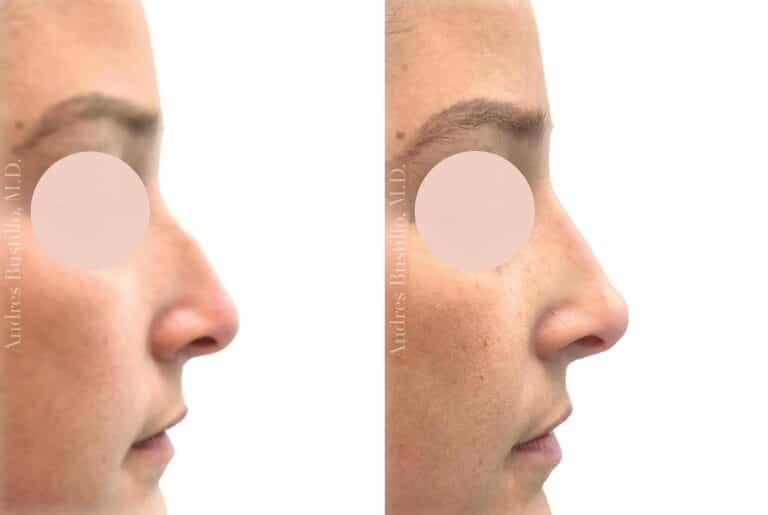 Each patient is unique and individual results may vary*.
Benefits of the "No-Knife Nose Job"
There are women and men who want to alter the appearance of their nose but are cautious of potential complications that can arise, high costs, downtime, and a number of other factors that are associated with a traditional rhinoplasty. Dermal fillers offer patients an alternative that is much quicker and requires no downtime. Injectable fillers can be used to augment the bridge of the nose, correct asymmetry, refine the tip, fill in indentations, and disguise a nasal hump. The procedure may also be used to improve minor defects following a prior nose surgery instead of undergoing revision rhinoplasty.
The results of the non-surgical nose job will be visible immediately, unlike surgery which can take up to a year to finally settle into its final shape. No downtime is required, and while there may be some bruising or redness, it will quickly fade and is easily covered with makeup. Patients may continue on with their day as usual after the procedure.
The Drawbacks to Fillers
Fillers work just as their name implies: they fill. This means that not all patients are candidates. The only real option for change is through augmentation. If a portion of the nose or all of the nose must be reduced in size, fillers are not an option. Furthermore, any significant deformities or nasal obstruction can only be treated with surgery.
Fillers used to modify the appearance of the nose are temporary, lasting from a few months to about a year, depending on the product used. Some patients may prefer a more permanent solution that does not require multiple visits to the surgeon's office every year, while others may see the temporary nature of the procedure as a benefit and a way to "try out" potential results before committing to surgery. If that's the case, it's important to understand that injecting material into the nose may result in scarring that can make future surgical rhinoplasty more difficult. The reality is that the use of fillers in the nose is fairly new and, thus, little is known about the consequences ten years or more down the road.
Where Rhinoplasty Takes the Lead
Permanent nose reshaping is a benefit only traditional rhinoplasty can offer. While dermal fillers do not take very long to inject, the prospect of returning for touch-ups every few months is not convenient for everyone. Additionally, because the results do fade, the appearance of the nose is not consistent.
The cost of one injectable treatment is indeed less expensive than rhinoplasty surgery, but over time the expense of multiple appointments at which injections are made in the nose will accrue.
The cost of rhinoplasty is not ongoing unless a revision is desired.
Other limitations that non-surgical rhinoplasty has are the inability to narrow the cartilage, reshape the nostrils, or reduce the size of the nose. The procedure will also not be able to improve problems with function. Patients who have these concerns must rely on rhinoplasty, which can effectively address these and other conditions. To truly get to the root of the problem, open or closed rhinoplasty surgery is best, especially when breathing is affected.
To learn about your options for nose reshaping, consult with an experienced and qualified plastic surgeon. Dr. Bustillo is a board-certified fellowship-trained facial plastic and reconstructive surgeon with extensive experience in rhinoplasty. Call him today at his South Florida practice to schedule a consultation, at (305) 663-3380, or view his before and after rhinoplasty photos to see the truly impressive results that can be achieved with surgical rhinoplasty.
Liquid Rhinoplasty FAQs
What Liquid Rhinoplasty
office is near me?
If you live near Miami, FL, Dr. Andres Bustillo offers Liquid Rhinoplasty among its services and is conveniently located at 6705 Red Rd #602, Miami, FL 33143.
Why Choose plastic surgeon Dr. Bustillo?