Under-eye hollows can be genetic or show up as a result of the natural aging process. But in either case, these dark circles can make you look older and more tired than you actually are. Under-eye dermal fillers, also known as tear trough fillers, can correct under-eye hollows and dark circles, helping you achieve a youthful, well-rested appearance without the recovery process and potential complications associated with surgery.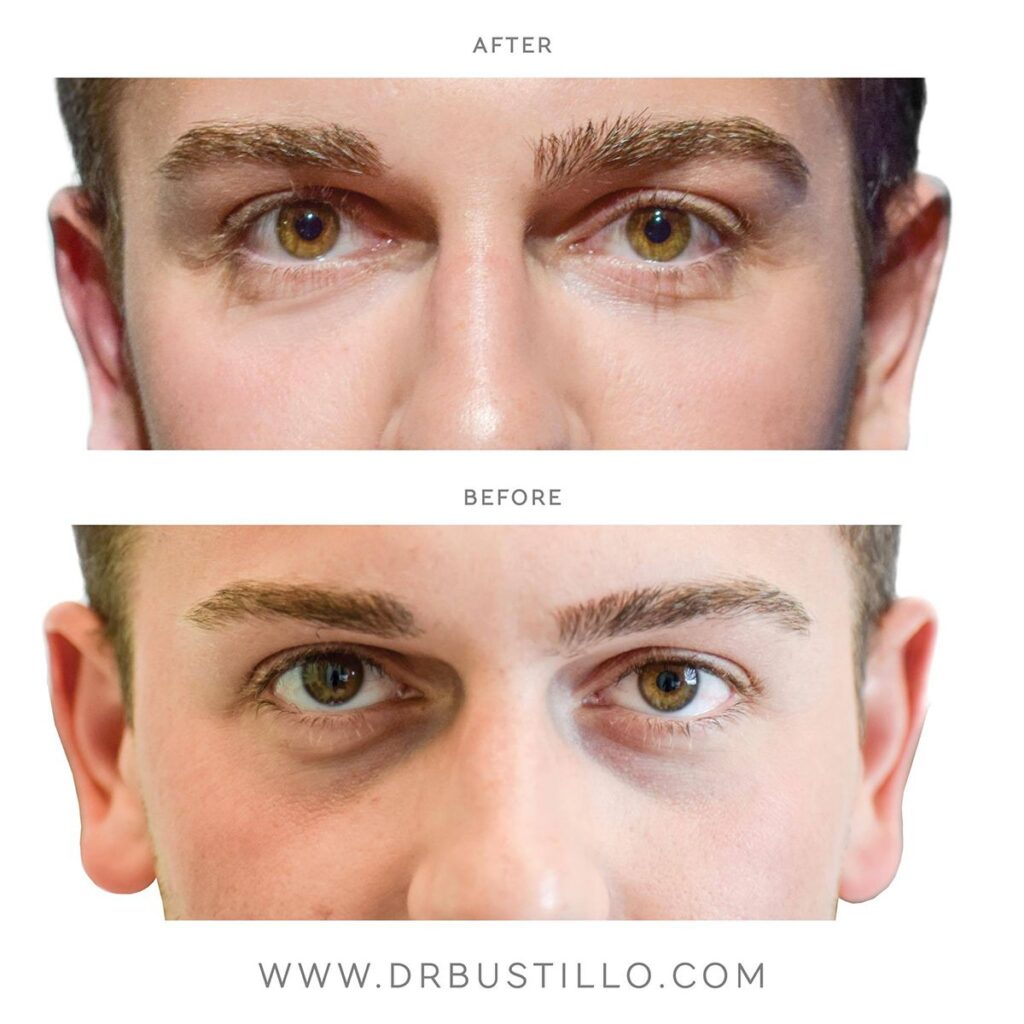 What Can Under-Eye Fillers Treat?
The under-eye region is one of the first areas to show the initial signs of aging. This happens because collagen levels start to dwindle as time goes by, causing the skin to lose volume and sag. Collagen is the most abundant protein in the body, and its main job is to give structure and elasticity to tissues. But it also plays a major role in providing the skin of the face and body with hydration and elasticity, which helps keep it plump and firm. 
As the under-eye loses collagen, the area begins to look hollow and sunken, creating a deep shadow that gives the illusion of perpetual dark circles. In fact, a great way to tell if you're experiencing under eye volume loss is to hold a mirror in front of your face in a well-lit place and look up; if the shadow under your eyes disappears, the dark circles are probably caused by volume loss and can be corrected with dermal fillers. If it doesn't disappear, it may be caused by hyperpigmentation of the skin, and you might benefit from a different procedure. 
Dermal fillers for under eyes can treat a variety of concerns, including:
Hollow eyes
Dark circles not caused by hyperpigmentation
Under-eye wrinkles
Small to moderate under-eye bags
Dull, sunken under eyes
One of the benefits of under-eye injections is that they don't require massive amounts of filler to restore volume to the area. This is because the region is quite small and doesn't experience a lot of movement, which is also why expertly applied tear trough filler can last significantly longer than other fillers – up to 24 months.
Am I A Candidate For Tear Trough Filler?
Although tear trough filler is quickly becoming one of the most requested minimally invasive aesthetic procedures, it's important to note that not everyone is a candidate for this treatment. Fillers can't correct vascular or pigmentation issues, so if you're trying to fix darkened skin under your eyes, the tear trough filler may not be the best solution for you. 
You may also not be a candidate if you have puffy eyelids or a noticeable fat pad under your eyes, as the filler can make them even more prominent. If this is your case, you may want to consider a blepharoplasty or eyelid surgery, a rejuvenating surgical procedure that can be performed on the upper or lower eyelid, or both. 
However, you may be a candidate for under eye filler if:
You are in generally good health 
Have concerns about sunken or hollow under eyes
Your eyes look tired due to volume loss or genetics
Have an under-eye deformity, including a deep crease between your lower lid and upper cheek (tear trough)
Procedure And Recovery
Your under-eye filler appointment will begin with a private consultation with Dr. Bustillo, where you'll have time to discuss your concerns, expectations, and candidacy for the procedure. Then, after you've comfortably settled into one of our treatment suites, Dr. Bustillo will apply a topical anesthetic to block out any pain you may feel during the injections. Depending on your anatomy, he may use a blunt tip microcannula to keep bruising and swelling to a minimum. 
The entire procedure takes less than 40 minutes, including the time it takes for the numbing solution to take effect. After that, you'll be able to walk out of our office and carry on with your daily routine like normal. Expect some mild inflammation and bruising, which typically go away on their own within a few days. Your doctor may recommend applying cold compresses to the area to speed up the healing process and over-the-counter analgesics to manage any potential discomfort. 
Avoid medications that promote bleeding and bruising, like blood thinners, aspirin, ibuprofen, fish oil, and vitamin E for at least a week before and after the procedure. 
The Importance Of Choosing An Experienced Provider
The tear trough can be a complicated area to treat due to the thinness of the tissue and its close proximity to the eyes. So going to a qualified plastic surgeon for your under-eye filler will ensure that you're in the hands of a well-trained provider, with expert knowledge of facial anatomy and the appropriate preparation to handle any complications in the unlikely event that something goes wrong. 
If you're bothered by your under-eye hollows and would like to know if dermal fillers could help, call our Miami office at 305-317-1960 or click here to book a consultation today. Dr. Bustillo is a double board-certified facial plastic and reconstructive surgeon with over 15 years of experience helping patients achieve beautiful, natural-looking results through surgical and non-surgical cosmetic interventions. He will be happy to walk you through the tear-trough filler procedure and answer any questions you may have.
Frequently Asked Questions
How long does under-eye filler last?
Because the under-eye area isn't very mobile, tear trough filler can last up to two years. That's a very long time considering that other dermal injections, like lip fillers, only last 6 to 8 months at most.
What's the best filler for under-eye hollows?
Dr. Bustillo prefers the Restylane filler for the under-eye area because it is a hydrophobic filler, meaning that it doesn't absorb water. This limits the swelling and provides a more natural look. Depending on your anatomy, Dr. Bustillo may also use a cannula to limit bruising.
Is under-eye filler safe?
Yes, in the hands of an experienced provider, tear trough filler can be a safe and effective solution for restoring volume to the under-eye area.
What are the side effects of tear trough filler?
When administered by an experienced plastic surgeon like Dr. Bustillo, tear trough fillers are mostly safe and rarely have side effects. That being said, there are always risks involved with any procedure that involves piercing the skin with a needle. These may include:

– Skin discoloration
– Vascular occlusion
– Allergic reactions to the filler material
– Swelling around the eye
– Bruising
– Unsatisfactory results
Is tear trough filler painful?
The injections are applied under local anesthesia, so they shouldn't cause any pain. You may feel mild discomfort for a day or two after the procedure, which can be easily managed with over-the-counter pain medications and cold compresses.
Can under-eye filler be dissolved?
Yes, under-eye fillers can be dissolved with a substance called hyaluronidase. If you have had a tear trough filler treatment that went wrong, Dr. Bustillo can help. Call our Miami office at 305-317-1960 to schedule an appointment with Dr. Bustillo or click here to request a consultation online.
Why Choose plastic surgeon Dr. Bustillo?