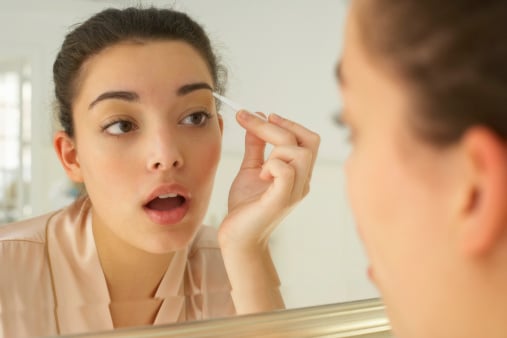 Eyelid surgery, also known as blepharoplasty, has many benefits. If you're wondering if the surgery could be right for you, here are the top 7 perks of blepharoplasty.
1.) Smoother Wrinkles and Fine Lines
Lines and wrinkles around the eyes are one of the earliest signs of aging in this area. The muscles that control your eyes also cause your skin to wrinkle as they contract. Over time, these wrinkles become a part of your skin, giving you "crow's feet" and other lines around the eyes. An eye lift will help smooth the wrinkles and make them less prominent.
2.) Tightened Skin Around the Eyes
Loose skin around the eyes can also be improved with an eye lift. As you age, your body starts to produce less of the fibers your skin needs to stay tight and firm. Your skin begins to loosen and become softer. This contributes to the wrinkles around your eyes and even the bags that form underneath. In general, loose skin around your eyes gives you an older look. Tightening the skin with an eye lift can counteract this occurrence.
3.) No More Bags Under the Eyes
Bags under the eyes start to form when fat deposits begin to accumulate below your lower eyelid. The soft tissue also begins to sag in this area. These two things combine to make you look tired, even if you are getting enough rest. A lower eyelid lift can tighten up the skin under your eyes and remove the fat deposits to smooth out the bags and help you look more refreshed.
4.) Improved Vision
For patients with severe drooping in their upper eyelid, vision trouble can be a real problem. Skin loses elasticity and tightness as you get older which causes your skin to sag. Around your eyes, the skin on your upper eyelid can start to droop and block part of your vision. The impairment can become very severe in some cases. By removing the excess skin and tightening the soft tissue around the eyes, vision can be restored and the function of your eye can be improved.
5.) Younger and Refreshed Appearance
An eye lift generally removes between five and seven years off a person's appearance, which makes a great deal of difference once you reach middle age. A lot of things make your eyes look older, which in turn makes the rest of your face look a little older too. By improving the look of your eyes, you improve the look of your entire face.
6.) Little Recovery Time
Patients can usually return to work and light activity after only a week, and resume more strenuous activities after about three weeks. The worst of the swelling will go away after the first two days with a cold compress routine. About seventy percent of the swelling will be gone after two weeks with the rest of it disappearing over the next eight to twelve weeks. And while it will take about two to three months to see the full results of the procedure, you'll be able to enjoy your new appearance much sooner.
7.) Compatible with Other Facial Procedures
An eye lift is often combined with other facial procedures to give patients an even younger looking appearance. Common procedures used with eye lifts include the facelift and brow lift, but it can also be used with other surgical procedures. Nonsurgical procedures like injectables and Botox fillers can also be used once you've healed from the surgery. An eye lift can remove up to seven years from your appearance, but combining the procedure with others can give you even greater results.
Scheduling Your Blepharoplasty Consultation
If you would like to learn more about these and other amazing perks of blepharoplasty surgery, contact Andres Bustillo Facial Plastic Surgery to schedule a patient consultation. You can reach us by phone at (305) 663-3380 or send an email to us through our Contact page. Dr. Bustillo is a board certified facial plastic surgeon who dedicates his practice to facial rejuvenation through surgical and nonsurgical procedures. He has also used his expertise to teach other plastic surgeons on the blepharoplasty procedure through written publications.
Contact Dr. Bustillo today to schedule your patient consultation and see what an eye lift procedure can do for you!